Niche's hand-blown pendants look stunning in multiples. When grouped together, our glass creates an impactful display of modern lighting. Whether you hang several pendants above a dining room table or over a bar, our luxurious lights will serve as the backdrop for your intimate moments. Here are three different ways you can create cohesive pendant lighting clusters in any environment.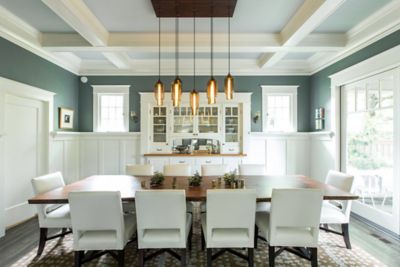 1. Mix the Drop Length, Match the Pendant
Hanging one pendant style (the same shape and same glass color) in a space is the easiest way to create cohesion. To take your lighting display to the next level, vary the drop lengths of each pendant. This will help you design a unique, eye-catching installation. Try grouping pendants like Linderoths did with our Crystal Minaret lights, or stagger pendants like Jason Ball Interiors chose to do with our Gray Pharos pendants in the Mt. Tabor dining room pictured above.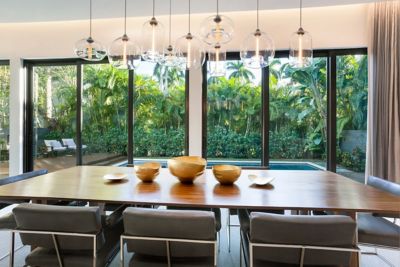 2. Mix the Shape, Match the Color
Mixing similar pendant styles while keeping the glass color consistent is another way to create a cohesive lighting cluster. A grouping of our Pod, Aurora, and Stamen pendants in this Miami beach home is the perfect example of this. These three pendants all include our signature inward curvature. Our Minaret and Turret pendants also make a great pair, since they both feature a hand-pulled tear-drop shape. Looking for something a bit bolder? Try grouping our Trove, Calla, Delinea, and Axia pendants, which feature defined angles and playful colors.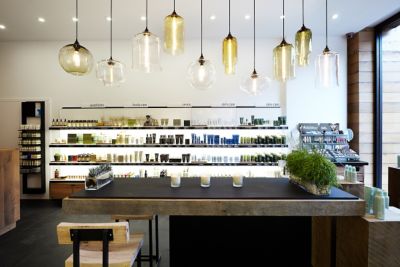 3. Mix the Shape, Color, and Drop Length
Niche offers an array of handmade silhouettes and luxurious glass colors. When creating a cluster of pendants, mixing complementary shapes and hues creates harmony in a space. This modern lighting display in Aveda combines our Solitaire, Oculo, Bell Jar, Bella, Pharos, and Stargazer pendant lights in Smoke, Crystal, and Amber glass. This Brooklyn dining room is another great example of how complementary tones work together to form stunning modern lighting displays.
More Examples of Pendant Lighting Clusters
3 Hotels with Modern Pendant Lighting Clusters
3 Restaurants with Modern Pendant Lighting Clusters
4 Retail Stores with Modern Pendant Lighting Clusters