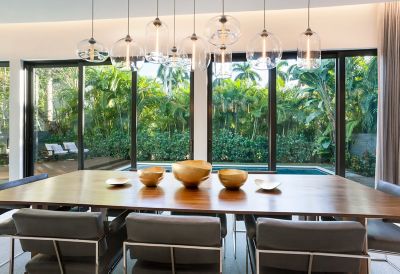 Studio RODA has fully wowed us with their beautiful table pendant lighting installation! They made a Crystal glass cluster of our Aurora, Stamen, and Pod pendant lights in this Miami Beach home to achieve the stunning centerpiece. Each pendant hangs from an individual junction box with staggered cord lengths.

The interior architecture firm's goal is to use a comprehensive design approach to create tailored, functional spaces for each client. No stranger to craftsmanship and high-end design details, Studio RODA also included brass vessels from Tom Dixon and leather chairs from Milo Baughman. The gorgeous walnut table? They custom designed it themselves!

It's no surprise that Studio RODA chose Niche for the table pendant lighting inside this sleek and modern beach home. Our signature Crystal glass is a refined and timeless statement for contemporary interiors.