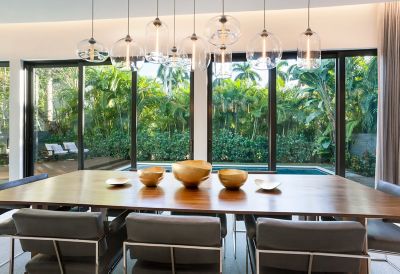 Studio RODA wowed us with a cluster of our Aurora, Stamen, and Pod pendant lights in this Miami Beach home to achieve a stunning centerpiece of dining room modern lighting. Each pendant light hangs at a different length, emulating the staggered, flowing palms outside of the dining room.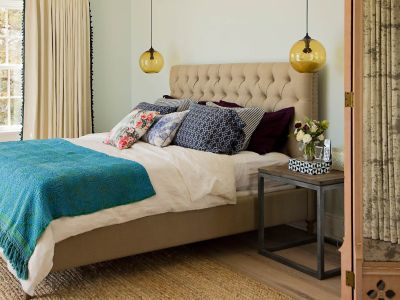 Two Niche Binary pendant lights nestled their way into this Bellport, New York summer home. Our signature Amber glass adds an extra punch of color among the floral prints and hemp accents and completing the modern, coastal vibe.
Table Modern Lighting
This Connecticut summer home designed by Gray Organschi Architecture (above left) is located in Sachem's Head, a tranquil and remote peninsula along Long Island Sound. The eat-in kitchen table modern lighting installation uses our Pod pendant light in Amber and Plum and our Stamen pendant light in Smoke.
You can also keep your table modern lighting simple, as deonstrated by Melida Williams Interior Design inside another Miami Beach kitchen (above right). One Crystal Stamen pendant light paired with this eclectic loveseat makes for a pleasing seating area to view the blue lagoon outside the window.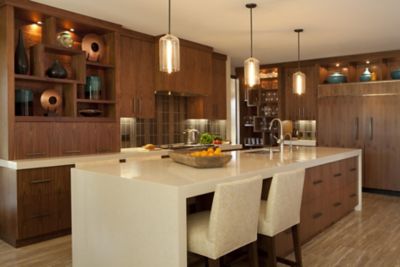 Kitchen Island Modern Lighting
This Huntington Beach home designed by Michael Fullen Design group uses our Bella pendant lights as the kitchen island modern lighting. The Crystal glass is clear and simple as to not distract from the beautiful aqua and bronze accents throughout the interior.