Dining room pendant lighting is sure to spice up your gathering space! No matter how you style your pendants, the unique centerpiece is sure to wow the crowd. Check out these three ways to hang your glass pendant lighting inside of these six completely different dining rooms.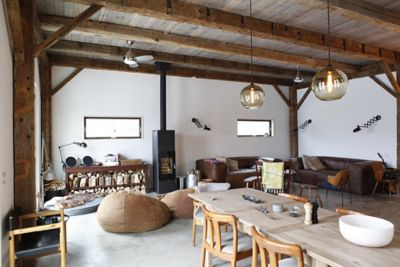 1. KEEP IT SIMPLE
One style pendant light in one color might be all you're looking for! Keep the cord drop lengths the same length too for even more uniformity. Interior designer Gaile Guevara styled this modern dining room in Vancouver with a row of our Pharos pendants in Smoke with track lighting. The above image shows a Bovina, New York farmhouse dining room repurposed by Kimberly Peck with two Solitaire pendant lights in Smoke overhead.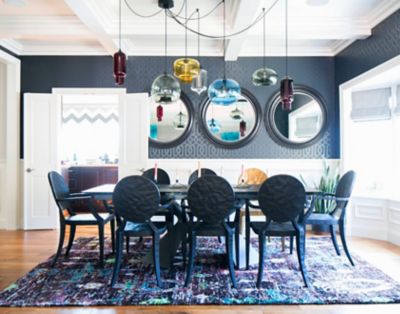 2. GO ALL OUT
Pendant lighting really gives you a chance to take risks! We mean it! Grace Blue Designs, Inc. went above and beyond to bring her client a colorful and extravagant cluster of multiple pendant lighting styles and colors at different drop lengths. You'll see our Stamen, Oculo, Turret, Terra, Aurora, and Pharos all basking in the sun above a dining room table. In another dining room, Bella pendants in Crystal all remain the same, aside from the staggered drop lengths inside this Greer Interior Design dining room.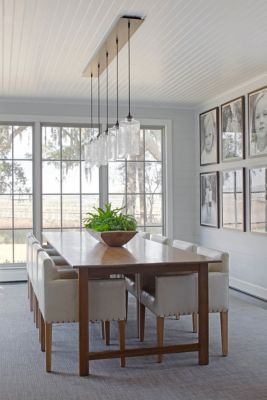 3. LINE IT UP
Here are two dining room pendant lighting installations that use our Linear Canopy option. With a canopy, you only need one electrical junction box to hang multiple pendants. Rethink Design Studio's Savannah, Georgia home uses a Linear-5 Canopy with our Bella pendant lights in Effervescent, as shown above. In another setting, and one of our most popular Pinterest Pins, Gray Aurora pendant lights hang from a Linear-3 Canopy to create a Medieval vibe.