Interior Designer Jessica Helgerson was tasked to transform this hundred-year-old Northwest Portland home into a fresh and welcoming space. The updated designs reflect the young family's modern aesthetic, from the clean colors to the stunning lighting. We couldn't be more thrilled to see that Helgerson has, yet again, chosen Niche's lights to enhance this home's overall feel.
On the ground floor, Helgerson opened the dining room to the kitchen with two-sided glass cabinets, which pair perfectly with Niche's clear glass modern pendant lighting. Our Minaret pendants in Crystal glass hang above the marble island in the center of the room and fit beautifully into this bright, expansive design. The two teardrop fixtures over the tabletop complement the palette of whites and cool grays along the walls and furnishings. Above the sink, the single pendant adds a nice contrast against the darker counter and stained wood floor. It also provides a seemly addition to the natural light filling the room from the wide windows.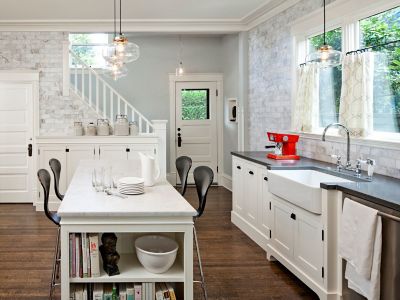 The Polished Nickel Glass Holder stays in keeping with the contemporary space and remains true to the cool tones throughout the room. You can customize your accessories to create a unique look for your personal project.
While Helgerson remodeled this centennial home and added a modern flare to it, she still managed to maintain the original integrity of the space. It now stands the test of time, both stylistically and functionally thanks to her thoughtful and refreshing concepts.