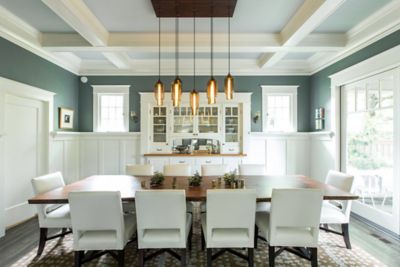 Jason Ball Interiors was thrilled to collaborate with clients who already had an excellent sense of style in this Oregon home. The updated designs reflect the young family by using fresh colors, contemporary furniture, and of course, stunning lighting! A custom installation of 7 Pharos modern pendant lights in Gray glass hangs above the walnut table. The Gray glass dining room pendant lighting is a great go-between shade that links the muted teal walls with the white cabinets and chairs.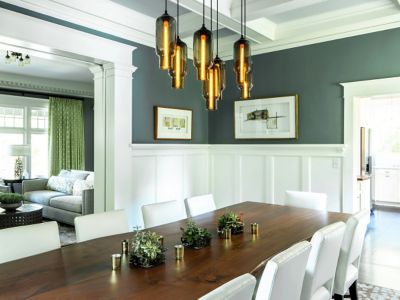 The gray color palette continues in the living room, again providing a neutral backdrop for the bright lime green accents. The coloring is so precise that the patterns and textures play off of each other, not against each other, and range from zigzags and stripes to florals and organic prints.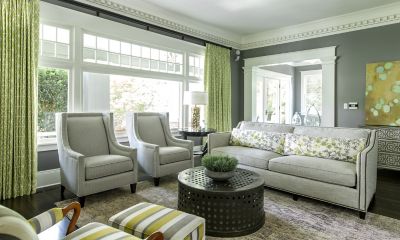 The use of color continues to the front entry where bright teal becomes the accent. Two chairs in an organic, abstract fabric, reminiscent of watercolor, fit nicely with the gray walls. Again, the patterned chairs and adjacent wallpaper are just enough to play nicely together, without overwhelming the small reading nook or the tone of the neighboring rooms.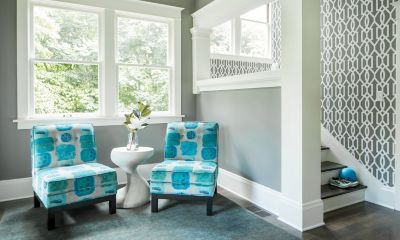 MODERN KITCHEN LIGHTING PROJECT DETAILS
Location Oregon
Interior Design Jason Ball Interiors
Niche Products Featured Pharos pendant in Gray glass