For a combination of both style and function, Niche has plenty of modern pendant lighting options to suit your restaurant design needs. Add illumination and intimacy to your restaurant with a stunning grouping of pendant lights overhead. Get inspired by these three restaurants with modern pendant lighting clusters.
Designed by Studio DEX, the Sugarfish Sushi Bar in Beverly Hills includes a cluster of Niche Solitaire pendants in Smoke glass. Hanging toward the back of the restaurant and bar, the grouping of our signature Solitaire pendants adds to the minimalist and straightforward restaurant design. This classic silhouette fits in seamlessly with Sugarfish's earthy, natural aesthetic and provides a warm, inviting atmosphere for diners. View other Sugarfish locations with Niche pendant clusters.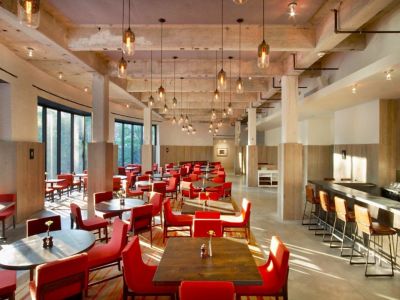 Located in Beacon, New York, Roundhouse is just minutes away from Niche. Designed by Elizabeth Strianese the local hotel and restaurant features Niche pendant lights. Inside the main dining area, custom Niche Helio pendants in Effervescent glass with a custom Mercury overlay hang from the high, wood panel ceiling over the guests. The Helio pendant light is designed for versatility, with both translucent and opaque color palettes, as well as an array of available lamping options. The delightfully compact shape of the Helio pendant light works well when grouped together, and that certainly holds true in this setting. Looking to place a custom order? We're here to help!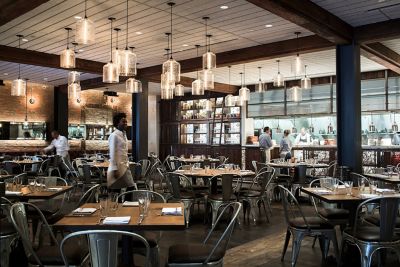 CBD Provisions is an acclaimed modern Texas restaurant located in Dallas' central business district at The Joule hotel. Niche Bell Jar pendants in Effervescent glass hang above guests as they dine in the establishment, where exposed brick walls, salvaged wood floors, leather banquettes, and a fully-exhibited kitchen evoke historic downtown Dallas. The texture of our Effervescent glass adds to the rustic aesthetic while creating a unique dining experience. The multiple junction boxes and varying drop lengths help to visually define the space, allowing this display of modern restaurant pendant lights to capture the eye's attention.