Studio DEX has transformed several Sugarfish Sushi Bar spots into beautiful contemporary dining environments, and they have done so by incorporating Niche modern restaurant lighting into their spaces. With multiple locations in Los Angeles, Sugarfish boasts a menu of high-quality items that are greatly simplified. Their uncomplicated food philosophy seems to match their design preferences as well. Each spacious interior prominently features our Solitaire pendants in warm glass colors, the perfect complement to their natural interiors. Keep reading to tour 5 Sugarfish eateries featuring our handmade pendants.
1. Calabasas
At the Calabasas restaurant, Solitaire pendants in Smoke glass hang from a sloped wood ceiling above the dining area. Each pendant uses a single junction box, a great method for hanging multiple pendant lights throughout the entirety of a space. Read more about this dazzling lighting installation.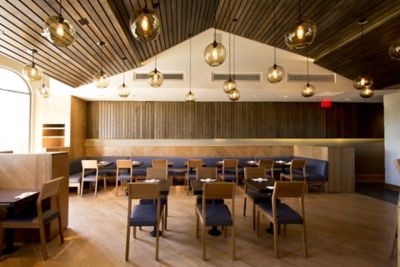 2. Beverly Hills
In Beverly Hills, Niche's Solitaire pendants in Smoke glass hang toward the back of the restaurant and bar. Minimalist and straightforward in its presentation, this classic silhouette fits in seamlessly with this earthy aesthetic.
3. Hollywood
The Hollywood location also features Niche's Solitaire pendant lights in Amber. The honey-colored hue complements the exposed brick and leather upholstery to create warmth and intimacy in the industrial space. Read more about the restaurant's renovation here.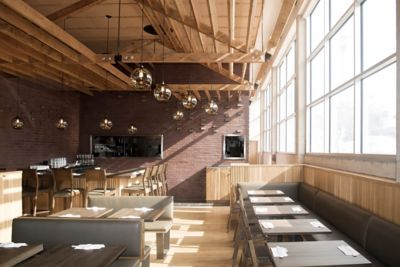 4. Studio City
The Studio City restaurant features our Solitaire pendants in Amber, Chocolate, and Smoke glass. The varying colors and uneven spacing add to the uniqueness of their display. The pendants' warm glow also offers a nice balance to the cool gray and blue tones throughout the interior.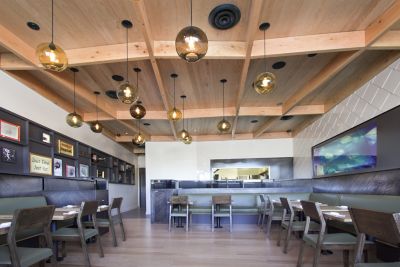 5. La Brea
The La Brea location incorporates our Solitaire pendants a bit differently than the other Sugarfish spots. Over one of their dining tables hangs the Solitaire Modern Chandelier in Smoke, adding an elegant touch to this top-rated eatery.