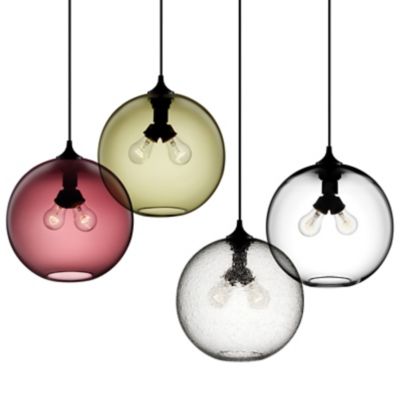 Based on the orb glass shape, this Niche silhouette uses two incandescent bulbs, giving it a contemporary twist on the nostalgic Edison style elegance of our Solitaire Pendant. Each Niche Binary modern pendant light is handmade with great care and is ideal for both hospitality and residential modern lighting. Get inspired by these four interiors featuring the Binary pendant.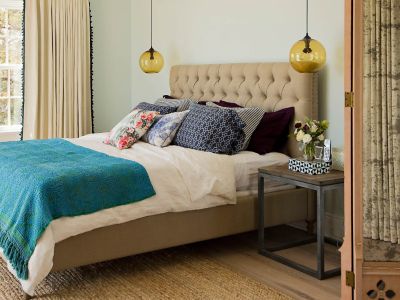 1. Modern Bedroom Lighting
Two of Niche's Binary pendants in Amber glass frame the bed in this Bellport Beach House, making this ordinary space unique with contemporary bedside lighting. The golden glow of these pendants accent the wood grains and hemp rug, adding the perfect balance to this coastal aesthetic.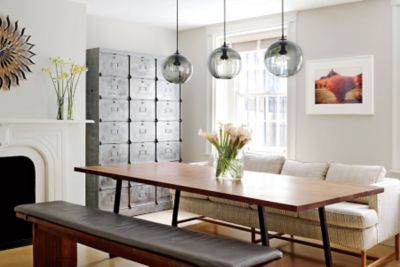 2. Modern Dining Room Lighting
A trio of Niche Binary pendants in Gray glass hang above the dining room table in this Greenwich Village Townhome. The color of our Gray glass complements the antique steel cabinet and cushioned bench seating. Hanging multiple pendants? Try using one of our Linear Modern Chandeliers to easily combine any Niche light fixtures with a single electrical junction box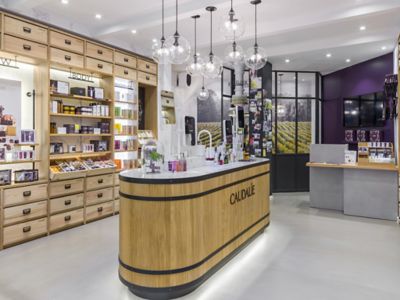 3. Modern Retail Lighting
The global skincare brand Caudalie features clusters of Crystal Binary pendant lights in boutiques worldwide. Our modern pendant lights typically hang above a central countertop, at which guests can speak with beauty consultants and sample their natural products. Our orb-shaped lights call attention to the main section of the store and add an elegant touch to the neutral interior. See other Caudalie locations with Niche retail lighting.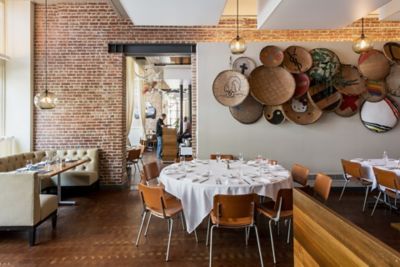 4. Modern Restaurant Lighting
An array of Niche pendant lighting is prominently displayed at Proof on Main, the restaurant inside the 21C Hotel, which is located in the heart of Louisville, Kentucky. A Binary pendant in Smoke glass hangs over a dining booth, creating an intimate experience for guests. Our Solitaire pendants in Smoke glass are also featured throughout the restaurant. Mix and match Niche pendants in a variety of colors and styles to create your very own site-specific installation.