Leslie Dowling, a New Jersey-based interior designer, was recently tasked with transforming a commercial space, which now houses Albariño Restaurant, a coastal, Spanish-inspired tapas and wine bar whose motto is "Eat Locally, Drink Globally." Albariño's features traditional dishes like paella and empanadas, using the best ingredients from New Jersey and the mid-Atlantic region to make their signature specials.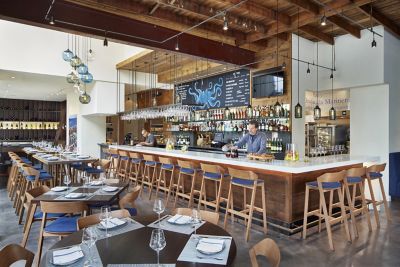 Dowling utilized some of the existing architecture, like the concrete floors and twelve-foot-high pine ceilings with raw steel beams, and incorporated those into her design plan. They were refinished to create the rustic backdrop that defines Albariño's interior and the restaurant's menu.
Suspended over the communal dining area is a Circular-9 Multi-Pendant Chandelier from Niche. This fixture includes a stunning pendant lighting cluster of cascading Solitaire pendants in Sapphire, Crystal, and Gray glass. The Edison bulb at the center of the simplistic silhouette and the cylindrical shape of the glass body harmonize to accentuate enduring quality and beauty. Walnut dining chairs and banquette seating are custom upholstered in dark blue denim to enhance the vintage atmosphere that is inspired by the sea. This subtle but sophisticated accent complements the bold blue glass lighting featured throughout the interior and reinforces the restaurant's coastal theme.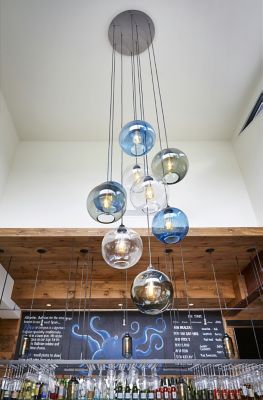 Hand-blown Helio pendants in Gray glass also hang above the bar top to create an intimate setting. With a vivid array of options in both transparent and opaque glass colors, this compact yet versatile pendant charms and delights. Here, the Helio adds a chic ambiance to the popular social gathering area. Overall, the lighting featured throughout the restaurant serves as one of the restaurant's focal points. Patrons can admire them from the main dining room as well as from the outdoor patio, which is open from early spring to late fall. You can learn more about this project in the latest issue of darc magazine.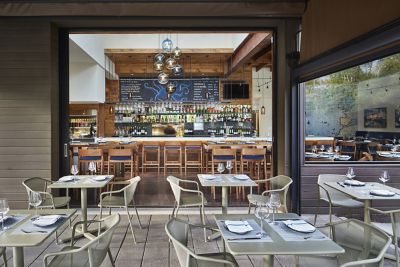 Modern Restaurant Lighting Project Details
Project Name Albariño Restaurant
Location Shrewsbury, New Jersey
Restaurant Group Terra Momo
Interior Designer Leslie Dowling
Photographer John Muggenborg
Featured In darc magazine
Products Used Solitaire pendants in Sapphire, Crystal, and Gray glass, Circular-9 Multi-Pendant Modern Chandelier, Gray Helio