SPG Architects renovated this 5,220 square foot, five-story townhouse from 1836 and transformed it into a modern residence. While preserving some of the 19th century designs, new additions helped to create a more functional space. The house is now boasts an open floor plan unified by a cohesive and colorful palette. An eclectic collection of furniture and art adds tasteful layers to the remodel's overlay of traditional and modern sensibilities. A custom Niche Multi-Pendant Modern Chandelier helps to further define this contemporary yet timeless aesthetic.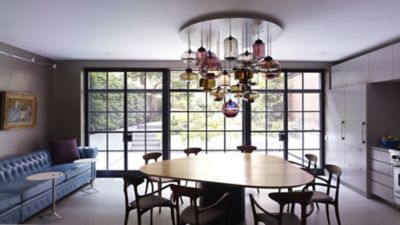 A unique grouping of handmade Niche pendant lights adorns the dining room in this Brooklyn Heights Townhouse. Hanging from a custom Circular Modern Chandelier, a cluster of Aurora, Stamen, Stargazer, Oculo, Solitaire, Minaret, Pod, and Turret pendant lights cascade and taper at the bottom to mimic a shower of warm light. The deep hues of our Plum, Gray, and Chocolate glass complement the rich tones found throughout the interior. Paired with a bare bulb filament, this modern grouping of Niche pendants blurs the line between vintage and modern design, adding to the truly unique composition.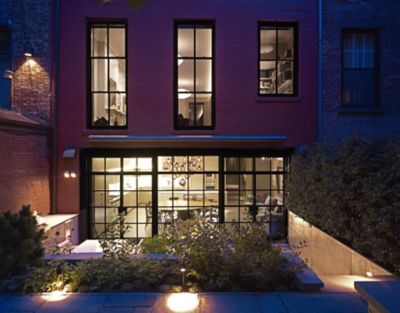 Looking to place a custom order? Contact our friendly and knowledgeable sales team with any inquiries. They will help you get started on creating the perfect design for your next project.
Modern Dining Room Project Details
Project Brooklyn Heights Townhouse
Location Brooklyn, New York
Architect SPG Architects
Contractor ZZZ Carpentry
Landscape Architect Robin Key Landscape Architecture