Your modern dining room pendant lighting display should make a decorative and intimate statement while also providing enough light for the table. Proportion is important — you'll want to choose a pendant light that will complement the size and shape of your dining table, not overwhelm it. No matter how you style your handmade pendant lights, a unique centerpiece of Niche hand-blown glass will surely add flavor to your meal and impress your guests. Get inspired by five stunning dining room pendant lighting installations.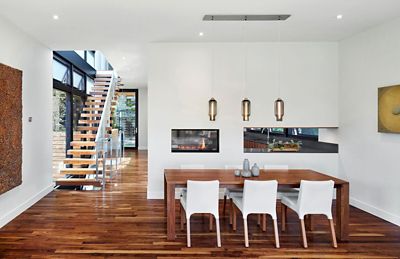 In this dining room by DOWLING STUDIOS, Niche Pharos pendants in Gray glass adorn a custom wood table. Hanging from a Linear-3 Modern Chandelier, Pharos lights create a stunning centerpiece that draws the eye's attention. One of the very first designs in Niche's modern lighting line, the Pharos looks fabulous in multiples as seen here. The ceiling canopy easily combines any three lights with a single electrical junction box, making installation simple. See more Niche pendant lights in this Princeton home.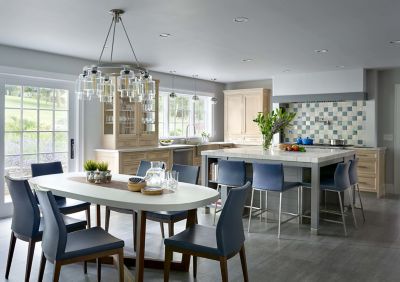 Designer Wendy Strauss of Strauss House Designs incorporated Niche lights into her own dining room. Above the table hangs our Axia modern light in Crystal glass from the Sola 36 Modern Chandelier. The Axia is part of our Crystalline Series, a collection of pendant lights that boast bold colors and angles. The Axia's smaller size allowed this modern chandelier to accommodate six of the glass pendants, creating a stunning centerpiece in this space. Learn more about Strauss House Designs in our latest "Designer Spotlight."
A unique grouping of handmade Niche pendant lights adorns this Brooklyn Heights Townhouse dining room designed by SPG Architects. Hanging from a custom Circular Modern Chandelier, a cluster of Aurora, Stamen, Stargazer, Oculo, Solitaire, Minaret, Pod, and Turret pendant lights cascade and taper at the bottom to mimic a shower of warm light. The deep hues of our Plum, Gray, and Chocolate glass complement the rich tones found throughout the interior. Read more about this unique renovation.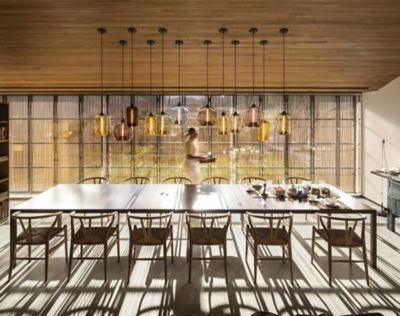 Sun pours through the unique vertical window blinds and dances on our Stamen and Pod glass pendant lights in this dining room by Studio MK27. A perfect example of mixing and matching colors, this installation includes our Amber, Chocolate, Smoke, Sapphire, and Plum glass colors. The rich hues complement the sloped wood ceiling from which they hang while also standing out against the cement floor. See these pendant lights shine in an issue of Elle Decoration Germany.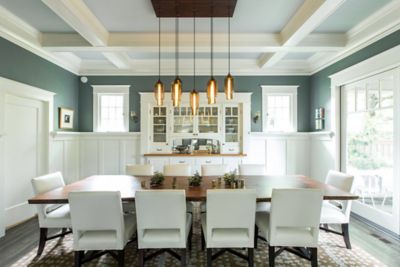 A custom installation of seven Pharos modern pendant lights in Gray glass hangs above the walnut table in this dining room by Jason Ball Interiors. The Gray glass dining room pendant lighting is a great go-between shade that links the muted teal walls with the white cabinets and chairs. See other images of this dining room here.
Have you used Niche pendant lights in your dining room? We'd love to feature your project on our blog! Send us your awe-inspiring images.