Interior designer Wendy Strauss ASID creates beautiful spaces under a variety of budgets, styles, timeframes, and requirements. As the owner and head designer at Strauss House Designs, she has served the Westchester and New York City communities since 2009. Wendy believes it is essential to work with her clients collectively through every part of the process to create beautiful and functional spaces that fit their lives. For her, great design begins with a comprehensive understanding of her client's needs and expectations and her success comes from developing a client relationship based on respect, trust and confidence in her work. Continue reading her "Designer Spotlight" to learn about what spaces she enjoys designing and her favorite Niche pendant shape.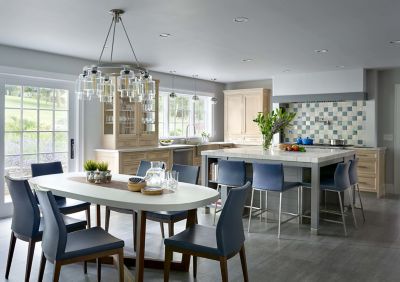 What kind of space do you enjoy designing the most?
My favorite space to design is a family room. I never repeat what I have done for someone else. This makes every project I work on a challenge, but that is also what keeps it exciting. Family rooms are gathering places for families to hangout, watch a movie or even entertain in. I try to create a space that is stylish but also warm and inviting.
"I try to help clients reach the best version of their overall vision. From the big picture to the small details, I work with my clients every step of the way."
What drew you to Niche products initially?
Niche is made right here in New York. I love supporting local businesses, especially when they are as talented as Niche. Lighting is like the jewelry of the room. Niche brings that chic industrial feel to a space. I love mixing metals and styles and this is what Niche allows for.
What is your favorite aspect of working in the Hudson Valley? What does the community mean to you?
As I mentioned, I am right here in New York and it is important to support local businesses. I had the pleasure of driving up to Niche and taking a tour of the facility and meeting several of the people who work there. It was an overall positive vibe that I felt when walking into the Niche Office space. Everyone from the factory floor to the people in the offices above loved working for Niche and had a vested interest in its success. That is the type of business you want to support and make sure it continues to thrive for years to come.
"Lighting is like the jewlery of the room."
What is your favorite Niche pendant shape and color combo? Why?
I am loving the mixing and matching of all the pendant shapes together. I am a fan of the Pinch Series, but do love the pure glass so you can see that bulb shine through. Clean and simple.


Describe your design philosophy in one sentence.
My philosophy is simple: creating spaces that are timeless but also accessible for families to gather in, celebrate and enjoy for years to come.
Wendy Strauss Projects with Niche Lighting