Our latest "Designer Spotlight" showcases Marie Burgos of Marie Burgos Design, the winner of the Best of Houzz 2017 Service Award. Burgos received a degree in Interior Design from New York University and her Feng Shui certification through Master James Jay. Specializing in loft, penthouse, and mansion designs, Burgos and her team have used Niche modern pendant lighting in several of their projects, providing clients with our timeless, handmade products throughout the years. Continue reading to learn about how Burgos got her start in the design world and to see her favorite Niche pendant shape and color combo.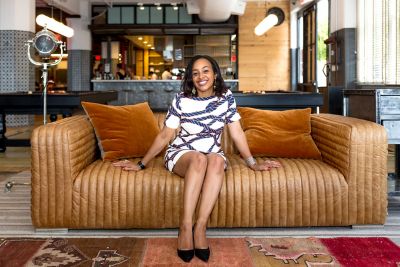 How were you introduced to interior design and what is your design philosophy?
In my life, I aspire for more balance, happiness and harmony. Through Feng Shui, I learned that my home environment had a huge influence on my emotions and ultimately on my achievements and happiness. I have always admired the architecture and beauty of Paris, my native country, and with a family who originated from the beautiful island of Martinique, I experienced the color and natural elements of nature in the Caribbean. I felt that I needed to use my creativity because I am surrounded by creative people in my family. My mother is a painter, one of my brothers is an executive chef, the other is a musician, and my husband is a photographer! For years, I was the only one working in a very corporate career, so the need to use my natural creativity really began kicking in... the rest is history!
What kind of space do you enjoy designing the most?
When it comes to residential projects, I like family homes such as townhouses and mansions. With commercial settings, I like hospitality design for hotels. We have an exciting project coming up for a successful IT company, for which we are creating their first headquarter offices.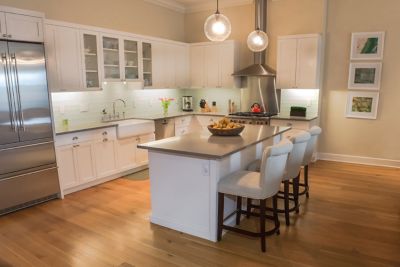 What drew you to Niche products initially?
The beautiful handmade glass! I love the fact that it's unique and that you have numerous color options.
What is your favorite Niche pendant shape and color combo? Why?
I love the Ellipse Series. It has an egg shape which is simple and elegant. The Opaline finish is my favorite because of its cloudy, milky tone that naturally dims the light. It looks very soft to the eyes.
You have used Niche products in a few of your projects. Which interior featuring Niche is your favorite?
I have used them in several of our designs. To mention a couple, in our Contemporary Tribeca Family Loft project, I used the Binary pendant in the Effervescent glass, which has those little bubbles that create a crystalline and fun look in the kitchen. With the Manhattan Upper East Side Family Home, we created a softer look with the Opaline Ellipse pendant to integrate our color scheme.
Marie Burgos Design Projects with Niche Lighting
Upper East Side Home Includes Opaline Ellipse Modern Pendant Lights