Award-winning designer Marie Burgos creates interiors that are harmonious, sophisticated and functional, all while embracing her clients' aesthetic and lifestyle needs. A certified Feng Shui Master, Burgos combines the principles of relaxation with the vision of every client to achieve the perfect blueprint. That is especially true in this Upper East Side residence, where Burgos designed a zen contemporary family home with their preferences in mind. The open floor plan allows the homeowners to gather for recreational purposes, whether among themselves or with guests. We are thrilled that Niche modern pendant lights illuminate such a stunning space.
A trio of Ellipse Grand pendants in Opaline glass hangs over the kitchen island. The milky hue of our luxurious Opaline glass complements the granite breakfast island, high-gloss cabinetry and chic white interior. With stylish appliances, open layouts, and Niche modern kitchen pendants, a dynamic and elegant lighting display becomes the center of attention in this New York City home. "We were looking for modern and unique pieces that would perfectly match the design and the client loved it too," Burgos says of the Ellipse pendants. Keep updated on her latest projects on Burgos' blog, Facebook and Instagram.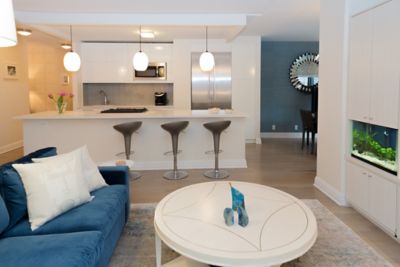 Available in two sizes, the Ellipse Series offers endless possibilities for custom projects. The Ellipse Grand pendant makes its presence known and adds a classic touch to any environment. On the smaller side, the Ellipse Petite pendant makes as bold of a statement as its larger counterpart. The Ellipse Grand and Petite proportions perfectly complement one another and make for a beautifully unique design when paired together. Start shopping the Ellipse Series.
Modern Kitchen Pendant Lighting Details
Project Name Manhattan Upper East Side Family
Location Manhattan, New York
Interior Designer Marie Burgos
Products Used Ellipse Grand pendants in Opaline glass