Designed by Kelly Smiar Interior Design, this California residence exudes classic style and functionality. Smiar incorporates clients' personal styles with her knowledge of design all while making them feel immediately at home in their new space. Her most recent project is no exception; Smiar transformed a Del Mar home into a cozy and accessible environment for the homeowners to enjoy. We are thrilled that Smiar incorporated Niche modern kitchen island pendant lights into her stunning design.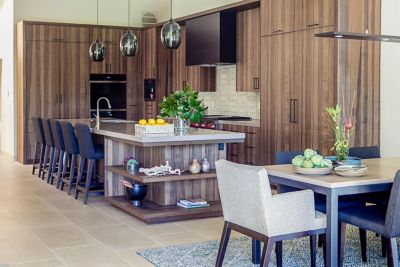 A trio of Ellipse Grand pendants in Gray glass hang from individual junction boxes above the kitchen island. The cluster of three Ellipse pendants creates an impactful modern lighting display at the eat-in kitchen counter, adding a warm and inviting feel to the space. Our signature Gray glass complements the dark wood tones and neutral palette prominently featured throughout the interior.
Available in two sizes, the Ellipse Series offers endless possibilities for custom projects. The Ellipse Grand pendant makes its presence known and adds a classic touch to any environment. On the smaller side, the Ellipse Petite pendant makes as bold of a statement as its larger counterpart. The Ellipse Grand and Petite proportions perfectly complement one another and make for a beautifully unique design when paired together. Start shopping the Ellipse Series.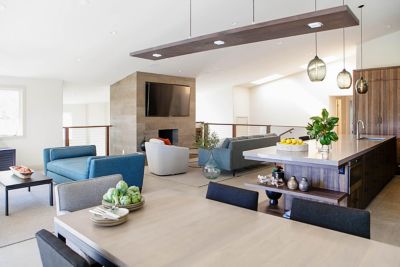 Modern Kitchen Lighting Project Details
Project Name Secluded Treehouse
Location Del Mar, California
Interior Designer Kelly Smiar Interior Design
Contractor Vanberg Construction
Photographer Silke Laqua Photography
Products Used Ellipse Grand pendants in Gray glass