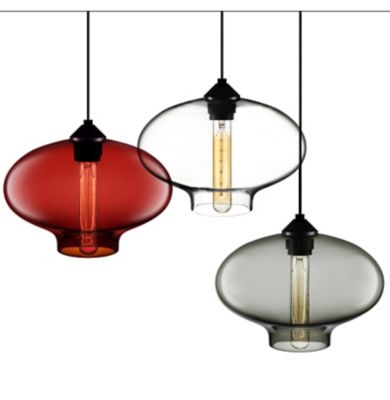 Given the simple, sensual shape and the inspiring, generous palette of available colors, the Stargazer is a delightful pendant in any environment. The classic shape dazzles on its own, in clusters, or in lines of multiples. Get inspired by four places to hang the Stargazer modern pendant light.
Michael Haverland transformed this house on 20 acres in East Hampton into a modern getaway. Stargazer pendants in Amber glass hang in a straight line down the entire length of the guest bedroom hallway. Our signature Amber glass provides warmth in the space, welcoming guests to their suites as if they were home. See other handmade Niche pendants in this stunning retreat.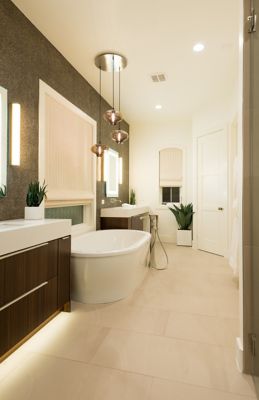 Three Stargazer pendants in Chocolate glass hang from a Brushed Stainless Circular-3 Modern Chandelier in this bathroom by Gin Designs. The rich Chocolate glass complements the textured wallcovering and dark wood accents featured throughout the space. Whether you hang a single modern pendant light over your sink or a cluster of custom pendants over your bathtub, Niche products will beautifully brighten your bathroom and help you unwind after a long day.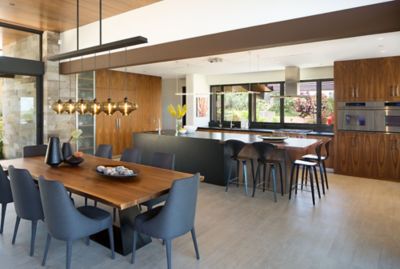 Architect Bruce Peeling and Dawson Design Group joined forces to transform this Santaluz home into one that reimagined and modernized a mid-century California ranch. In the dining room, six Stargazer pendants in Smoke glass hang from a custom Linear Modern Chandelier above the table, creating the perfect centerpiece for this gathering area. The luxurious Smoke pendants complement the rich wood accents featured throughout the conjoining kitchen and living area. View a cluster of modern living room pendant lights in this beautiful home.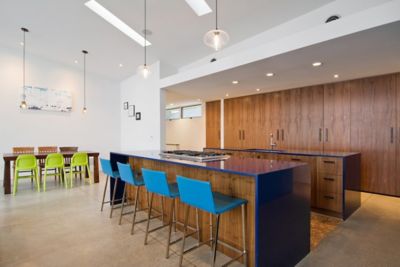 Two Stargazer pendants in Crystal glass hang high above the kitchen island in this Salt Lake City, Utah home by Imbue Design. Our Crystal glass brings elegance to this playful and colorful space while complementing the concrete floors and bright interior. Do you have Stargazer pendants in your home? Share your awe-inspiring images with us to be featured on our blog and social pages!