Architect Bruce Peeling and Dawson Design Group joined forces to transform this Santaluz home into one that reimagined and modernized a mid-century California ranch. The homeowners purchased this property in a planned community that offers plenty of charm but bears strict guidelines about what home styles can be built. After deciding that they wanted a contemporary, one-story house designed around a central courtyard, the couple had to convince the architectural review board that the home wouldn't upset the status quo of the community. After receiving approval, the renovations were underway, and the final design includes several handmade glass pendant lights throughout the interior.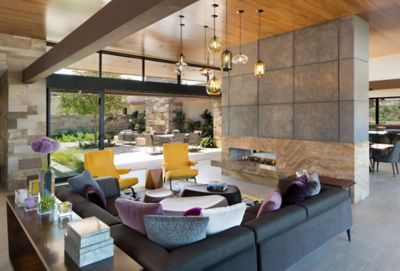 A grouping of several signature Niche pendants hangs in the living room. The cluster includes a Stamen and Turret pendant in Amber glass, an Aurora and Oculo pendant in Crystal glass, a Solitaire pendant in Smoke glass, a Pod and Pharos pendant in Gray glass, and a Minaret pendant in Chocolate glass. The rich colors of our luxurious glass bring added warmth to the interior, balancing the concrete and porcelain tile floor. The pendants complement the bamboo ceiling from which they hang, the double-sided quartzite fireplace, and the violet and gold tones featured throughout the space.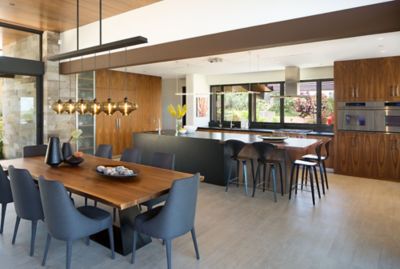 In the conjoining dining room, six Stargazer pendants in Smoke glass hang from a custom Linear Modern Chandelier above the table, creating the perfect centerpiece for this gathering area. This open-concept living room, dining room, and kitchen space serve as the heart of the home, and we love seeing our handmade glass pendants illuminating this stunning interior.