Located in Park City Utah, just minutes from world-renowned ski resorts, this 4,350-square-foot home features an incredibly minimalist style. Designed by Imbue Design and Benchmark Modern, this residence's arrangement draws inspiration from the natural mountains and evergreens that surround the property. We were thrilled to find modern dining room pendant lights inside this gorgeous home.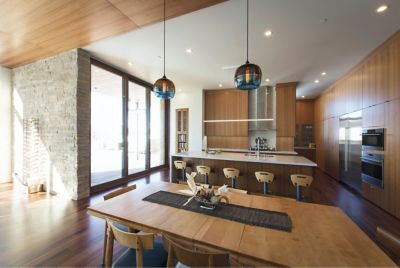 Two Encalmo Stamen pendants in Chocolate-Sapphire glass hang above the dining room table. The richness of our Chocolate glass complements the natural wood palette featured throughout the conjoining space, while the bright blue hue of our Sapphire glass adds a subtle splash of color against the neutral backdrop.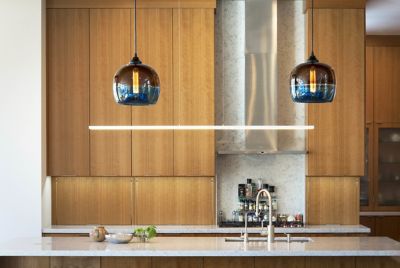 The Encalmo Stamen modern pendant light is made in the Italian discipline of fusing two separate entities of glass into one single piece. It is our single most complex shape, and not easily executed. The Encalmo Stamen modern lighting collection is a celebration of our curiosity about how different forms can come together to create inspired, sensual and clean design.
Modern Dining Room Project Details
Project Name Lucky John
Location Park City, Utah
Interior Designer Imbue Design
General Contractor Benchmark Modern
Products Used Encalmo Stamen pendants in Chocolate-Sapphire glass