The Circular-3 Modern Chandelier provides the perfect setting for a customized cluster of your favorite Niche pendants. Easy installation requires a single electrical junction box. Colors and drop lengths are your choices, which makes each fixture completely unique. Get inspired by three interiors with Niche's Circular Modern Chandelier.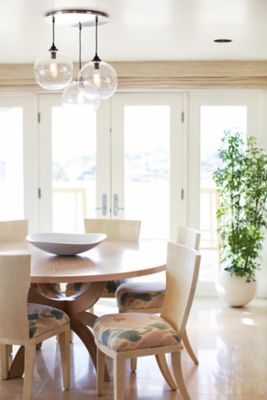 This dining room by Jodi G Santa Barbara Interior Design features a Polished Stainless Circular-3 Canopy with Solitaire pendants in Effervescent glass. Our handmade Effervescent glass, which embraces high texture through optic bubbles, adds a unique touch to this bright and airy kitchen. The light wood tones and white accents makes this minimalistic kitchen the perfect place for the Solitaire pendant, which is stunningly straightforward in its presentation.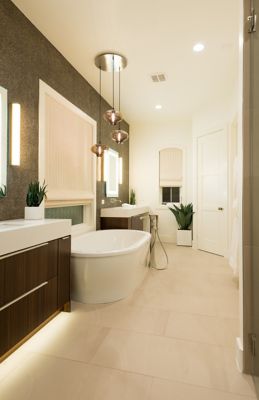 Three Stargazer pendants in Chocolate glass hang from a Brushed Stainless Circular-3 Modern Chandelier in this bathroom by Gin Designs. The rich Chocolate glass complements the textured wallcovering and dark wood accents featured throughout the space. Whether you hang a single modern pendant light over your sink or a cluster of custom pendants over your bathtub, Niche products will beautifully brighten your bathroom and help you unwind after a long day.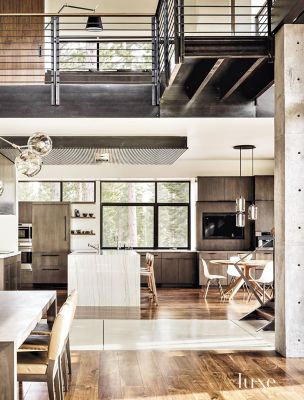 Sarah Jones Design incorporated three Pod pendants in Gray glass in this Contemporary Woodlands home. Featured in Luxe, this kitchen utilizes a dark, earthy palette. Our signature Gray glass brings a tasteful balance to this interior, matching nicely with the custom cabinetry. Floor-to-ceiling windows frame the central living area. Niche Pod pendants add the perfect amount of ambient light in this naturally lit interior.