Niche Multi-Pendant Modern Chandeliers display customized groupings of your favorite shapes and colors. Whether you choose to hang our handmade glass pendants from a Circular or Linear Modern Chandelier, you will surely create a stunning design. Colors and drop lengths are your choice, which means each installation is completely unique. Plus, our Multi-Pendant Canopies only require a single electrical junction box, making installation easy. Get inspired by these two kitchens with custom contemporary chandeliers.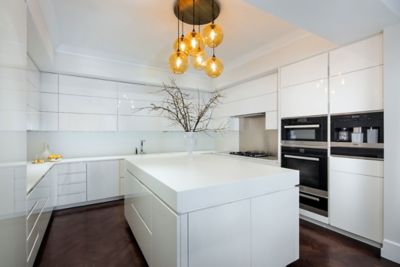 1. Custom Circular Modern Chandelier
A custom Circular Modern Chandelier hangs above the kitchen island in this Manhattan home by Nicole Fuller Interiors. A cluster of six Amber Solitaire pendants act as the perfect centerpiece in this space, with the brightness of our luxurious, honey-colored glass standing out against an all-white backdrop.
2. Custom Linear Modern Chandelier
This East Aspen home by Anne Grice Interiors features a custom Linear Multi-Pendant Modern Chandelier. Seven of Niche's handmade pendants, including the Oculo, Pharos, Stargazer, and Pod hang above the kitchen island. The Smoke, Amber, Gray, and Sapphire glass complements the warm interior, complementing the wood accents and sandstone accent walls, all which were inspired by the natural, mountainous environment surrounding the property.
Looking to place a custom order? Contact our friendly and knowledgeable sales team with any inquiries. They will help you get started on creating the perfect design for your next project.