Any configuration of Niche pendants are sure to dazzle as bar lighting. We've put together a list of our top six favorite bar pendant lighting installations that set the mood for a night on the town.
Located in Austria, this former butcher shop now houses a restaurant, banquet hall, spa, twelve guestrooms, and a stunning showcase of modern pendant lighting above the bar. The display includes our Oculo, Bell Jar, and Solitaire pendant lights.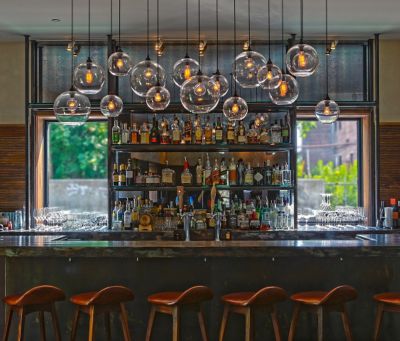 One of our Designer Spotlight interviewees, Elizabeth Strianese, designed the interior surrounding the bar at Roundhouse in Beacon, New York. A cluster of Crystal Solitaire pendant lights in custom sizes creates the bar's dazzling centerpiece.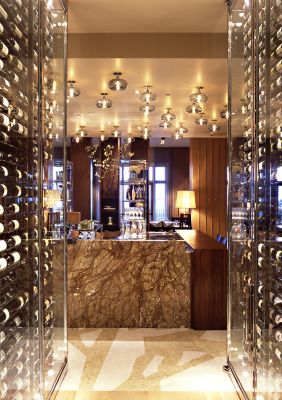 A unique installation of our Aurora pendant lights spread far and wide across the interior of the Stonehill Tavern. Paired with the modern glass wine cellars, this restaurant and bar really sparkles.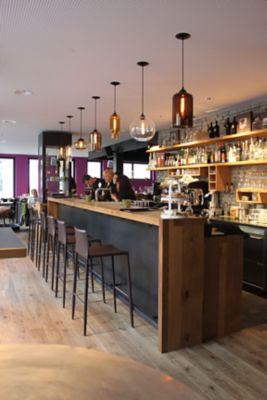 It's no wonder why this Swiss restaurant's bar is our most popular pin on Pinterest! The bar lighting consists of our Pharos, Minaret, Bell Jar, and Solitaire pendants in an array of our signature glass colors.
For some, this looks like heaven with endless bottles of wine lining the exposed brick walls at Terroir Wine Bar in New York City. But let's not let that get in the way of the Solitaire pendant lights in Smoke glass above the bar.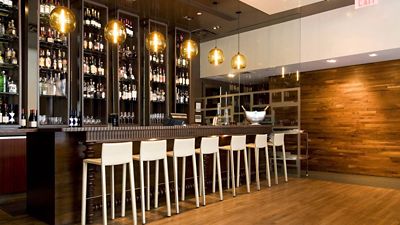 Our classic Stamen pendant in Amber glass lines up and lights up above A Voce's Madison Avenue location in New York City. Paired with the hardwood detailing of the floor, wall, and bar itself, A Voce is warm and welcoming.