Located in the heart of the city of Newburgh, Ms. Fairfax is an American restaurant that boasts a locally-sourced menu of lunch, dinner and weekend brunch focused on fowl, cured meats, and fine cheese. They also offer ten rotating beers on tap and specialty cocktails. This Hudson Valley eatery, just across the river from Niche HQ, recently underwent a remodel, and the new interior features our very own hand-blown pendant lights. We are so thrilled to be on display in this business.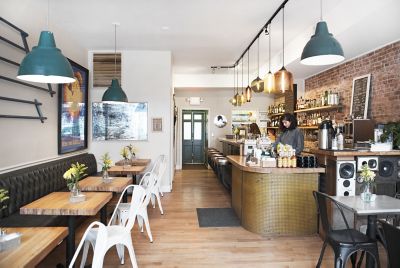 Above the checkout and eat-in bar, a linear arrangement of Niche pendants hang from a track. The grouping includes a Chocolate Bell Jar, Amber Pod, Gray Solitaire, Chocolate Pharos, Amber Oculo, Gray Bella, and Gray Stargazer. The warm glass colors complement the exposed brick behind the counter and the wooden bar and tabletops featured throughout the restaurant. We love how cozy Ms. Fairfax feels — it's the perfect place to bring a book and linger long after you've finished a delicious meal.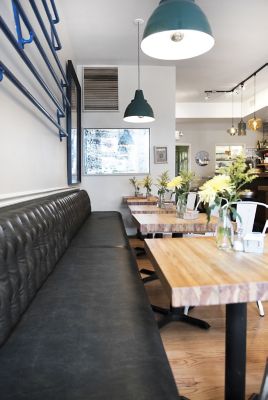 Track lighting allows you to hang multiple pendants with the freedom to move and position the lights anywhere along the track grooves. For information about which track systems Niche pendants are compatible with, contact our Sales team.

Modern Restaurant Pendant Lighting Details
Project Name Ms. Fairfax
Location Newburgh, New York
Interior Designer Daughters Design House
Products Used Chocolate Bell Jar, Amber Pod, Gray Solitaire, Chocolate Pharos, Amber Oculo, Gray Bella, and Gray Stargazer