It took two years' worth of work for architect Michael Atzenhofer and interior designer Johanna Atzenhofer of Architect and Friends to complete their renovation of Hotel Döllerer. Christened in 1909, the former butcher shop now houses a restaurant, banquet hall, spa, twelve guestrooms, and our personal favorite edition – a glimmering linear showcase of Niche modern lights above the "Cuisine Alpine" bar.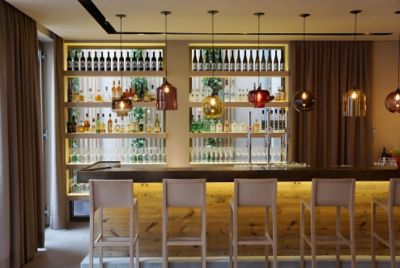 A grouping of our Oculo, Bell Jar, and Solitaire pendants adorn this intimate gathering space. The rich colors of our Chocolate, Plum, Crimson, and Amber glass bring warmth to the bar area, creating a relaxing and comfortable environment where guests can unwind. Our hand-blown glass also complements the bar's hammered metal, concrete, and wood accents, adding a touch of elegance to this industrial interior.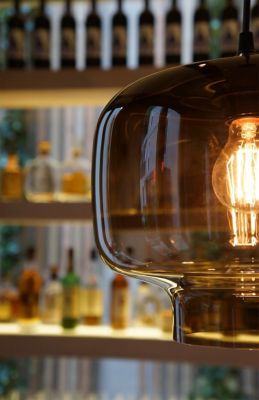 An extension offered Atzenhofer enough space to reorganize the entire ground floor, where the new Alpine Bar sits. One of the architect's main design ideas was to bring light and greenery into the hotel, so a lush garden terrace was added just outside the bar area, forming the natural link that Atzenhofer was looking for. Niche modern bar pendant lights help to balance that natural brightness by radiating a soft glow inside the contemporary hotel.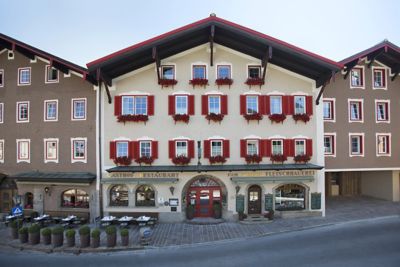 Contemporary Hotel Lighting Project Details
Project Hotel Döllerer
Location Salzburg, Austria
Architect Michael Atzenhofer, Architect and Friends
Interior Designer Johanna Atzenhofer, Architect and Friends