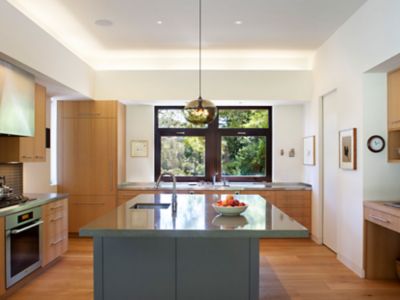 1 Kitchen Island Pendant Light
The truth is, modern lighting for kitchens knows no bounds! The glass shapes, glass colors and drop lengths are all up to you. It could be as easy as one-and-done, like a Terra pendant light in Smoke glass in this Mill Valley, California residence.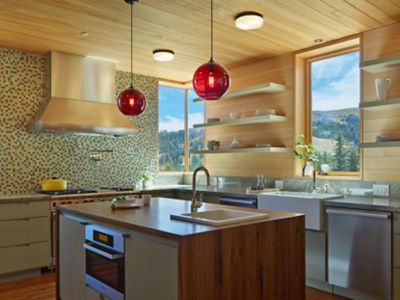 2 Kitchen Island Pendant Lights
With smaller kitchen islands, two pendant lights side by side can also do the trick. Try using a duo of complementary colors for a distinctive centerpiece, as seen in a Lake Tahoe resort home that uses our Solitaire pendant lights in Crimson glass.
3 KITCHEN ISLAND PENDANT LIGHTS
Modern lighting for kitchens should provide you with plenty of options to achieve the look and feel that you want. At Niche, we offer several pendant light hanging options to choose from, such as our lighting canopies. As seen in this kitchen, our Linear-3 Canopy makes it easy to hang three Aurora pendant lights in Gray glass using one electrical junction box.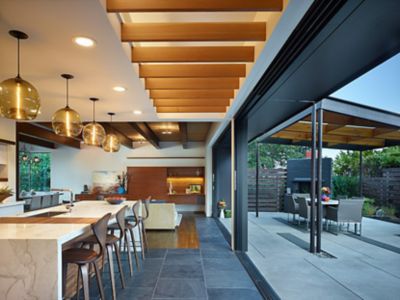 4 Kitchen Island Pendant Lights
Using multiple junction boxes is another way to hang multiple pendant lights, as seen in this sunny Seattle kitchen that uses four Stamen pendant lights in Amber glass. Every Niche pendant light comes equipped with a standard black ceiling canopy. Other ceiling canopy metal finishes are also available as a custom order.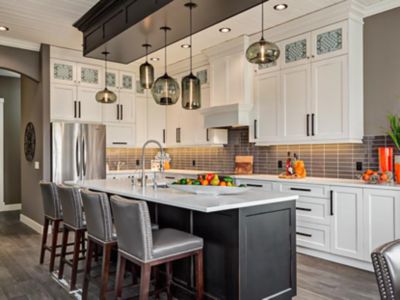 5 Kitchen Island Pendant Lights
Keep going! You can pack a lot of pendant lights over a longer kitchen island for a really dazzling display, like in this modern country home. Our Aurora, Pod and Stamen pendant lights all feature our signature glass tuck and harmonize well in this installation. What's the moral of the story? There's no right or wrong amount of pendants to use. Modern lighting for kitchens is truly limitless!