The saying, "adventure awaits right outside your door" truly comes to life at Lake Tahoe's Sugarbowl Getaway. This ski resort cabin designed by BCV Architects and Staprans Design boasts three-stories, 360° mountain views and direct access to the ski lifts! You can't get much closer to adventure than that!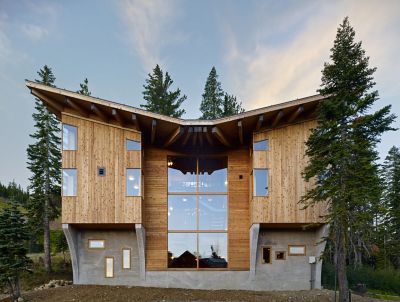 Both the kitchen and the view are stunning! The sleek, streamlined appliances seamlessly blend with the warm, wooden cladding of the walls and ceiling. Granite counter tops, minimalistic exposed shelving and a mosaic backsplash bring forth the green, rustic earth tones seen outside.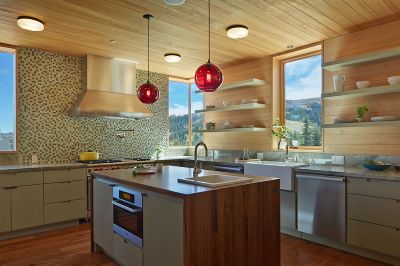 One might argue the real view is the kitchen island lighting! Niche's Solitaire pendants in our rich Crimson glass present a true testimony of what it means to be complementary color on the color wheel. Think red and green don't mix? This modern rustic kitchen design encourages you to think again!