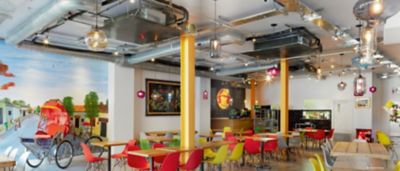 Little Saigon is a Vietnamese street-food restaurant located in London designed by interior design studio Avocado Sweets. The restaurant captures a casual street-food vibe while maintaining a strong link to Vietnamese traditions with urban-inspired murals, rustic tables, and an open window to the tantalizing kitchen.
Modern lighting was an important factor within the walls of this playful and stimulating interior. An array of Niche's Stargazer, Pharos, Pod, Oculo, and Solitaire pendant lights in a variety of jewel-tone colors echo that of paper lanterns found in Vietnam, giving a contemporary twist to a well-known look.
Little Saigon was recently featured in Darc Magazine, a decorative lighting magazine. Check out the issue here.