The April issue of Inex — a digital magazine featuring inspirational projects, timely discussions and expert advice from the industry's most highly regarded figures — features an interview with designer Evros Agathou, the Creative Director of the firm Avocado Sweets. His eclectic and colorful aesthetic has been shortlisted among the world's best designs, including his work on Little Saigon, a restaurant inspired by Vietnamese street food culture.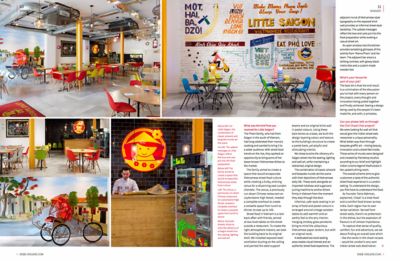 An array of Niche's Stargazer, Pharos, Pod, Oculo, and Solitaire pendant lights in a variety of jewel-toned colors illuminate the restaurant's interior. The bold colors of our luxurious glass complement the bright palette featured in the seating and hand-painted murals throughout the dining area. The modern restaurant pendant lights also helps to balance the paired-back industrial vibe, creating a playful and inviting atmosphere for guests to enjoy, no matter the time of day. Get inspired by other restaurants with handmade glass pendants.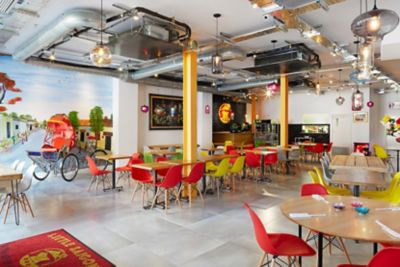 "We chose to echo the vibrancy of a Saigon street into the seating, lighting, and wall art, while maintaining a restrained, original design," Agathou says. "Hanging smokey glass pendants bring to mind the ubiquitous Vietnamese paper lantern, but with an original twist." You can read the rest of the interview with Agathou here.
Modern Restaurant Lighting Project Details
Project Name Little Saigon
Location London, England
Interior Designer Avocado Sweets