Interior design consultant Kathleen Glossa, landscape architect Martha Shapiro, and contractor Stuart Feldt of W.S. Feldt Construction recently came together with Coop15 to design a home for a family of five in the exclusive Seattle neighborhood of Sand Point Country Club. These three collaborated to design a spacious, modern house that incorporates elements from the original 1950s residence.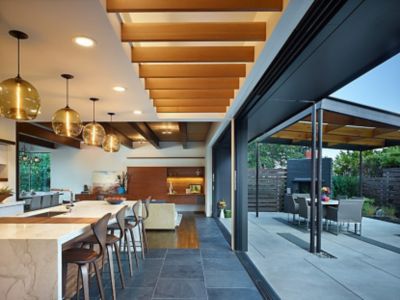 The open-air design allows for a seamless transition from the kitchen and living room to the terrace. Inside, four Niche Stamen modern pendant lights in Amber glass hang above the kitchen island. The Amber colored glass beautifully emulates the glow of the Seattle sunrise that peeks between the Cascades and the Olympic mountain ranges, where this home is comfortably nestled.
Upstairs, there is an office as well as the master suite, both of which boast views of Mount Rainier and Lake Washington. Two Niche Pharos modern pendant lights in Sapphire glass frame the master bedroom with a balance of warm and cool tones, much like the surrounding outdoor environment.