Located on a small triangular lot near Bull Creek in Austin, this house design embraces strict ordinance constraints, rather than fighting them, to create a truly unique house and experience. With help from Mf Architecture, Studio Tupelo, and an abundance of other talented contractors and engineers, the homeowners were able to see a drastic transformation of their once 800 square-foot house. Like many residences built in the 1950s, this home featured dark, cramped interiors where rooms were exclusively separate. Now, the Interlock Home connects rooms through an open floor plan to create a cohesive and lighter space.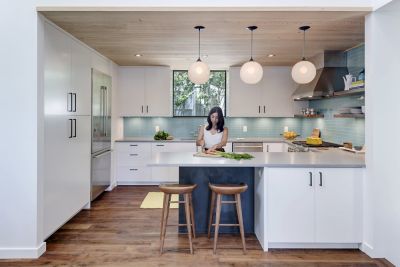 The new kitchen and living spaces saw a significant transformation. It is now compact enough for efficient cooking, yet spacious enough to host several people for entertaining. The materials used in this space, like colorful Fireclay tiles and Solid Texas walnut floors locally milled by Hewn, truly reflect to client's aesthetic.
A trio of Solitaire pendants in Opaline glass hangs above the kitchen island. The milky color of our opaque glass emits a soft glow, which is further diffused by frosted bulbs. This white hue complements the clean, minimalist interior while turquoise and yellow accents add a subtle pop of color. With stylish, sleek appliances, open layouts, and Niche glass pendant lights, an elegant display becomes the center of attention in this modern kitchen.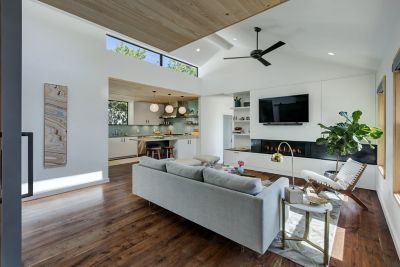 Modern Kitchen Lighting Project Details
Project Name Interlock Home
Location Austin, Texas
Interior Design Studio Tupelo (Sarah Johnson; Matt Fajkus, AIA; David Birt; Ian Ellis; Garland Fielder)
Architect Mf Architecture
Contractor Wall to Wall Construction
Engineer Smith Structural Engineers
Photographer Charles Davis Smith
Products Used Solitaire pendants in Opaline glass