Niche's Solitaire glass is minimalistic and straightforward in its presentation, making it a classic silhouette for any environment. Paired with our Sola Chandelier and Solitaire Chandelier, these fixtures create stunning centerpieces, perfect for hospitality, retail, and residential settings. The glass color, metal finish, and overall height of the chandeliers are up to you, making each installation completely unique. Get inspired by 5 modern interiors with Niche's contemporary chandeliers.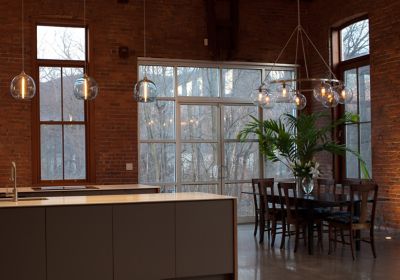 This Beacon loft features a Sola 48 Modern Chandelier with Effervescent Solitaire glass. Hanging above the dining table, this fixture creates an intimate atmosphere, inviting the homeowners and their guests to enjoy each other's company under hand-blown glass lighting. Modern dining room displays should make a decorative and intimate statement while also providing enough light for the table. Proportion is important — you'll want to choose an arrangement that will complement the size of your table, and this chandelier does just that.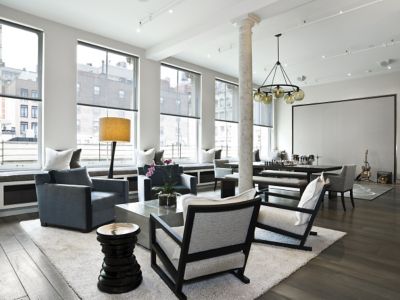 West Chin and GRADE New York collaborated to design this Soho loft for FreshDirect.com's co-founder, Jason Ackerman, and wife, Elyssa. The living area is enveloped in cooler gray and cream tones, instantly drawing the eye to the warm olive hue of the Solitaire Modern Chandelier with Smoke globes. Matte Black custom-fabricated metal used to construct the 36" ring and arms of the Sola Chandelier mirrors the darker wood accents throughout the space. See other Niche pendants in Ackerman's space.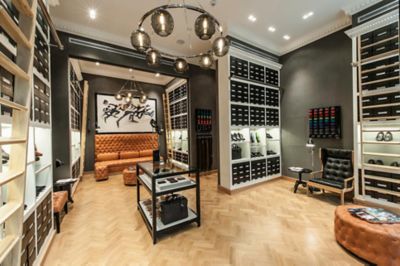 At the Dubai location of Harry's London, a high-end men's footwear brand, two of our modern chandeliers with Solitaire pendants serve as the store's centerpiece. Seen in front, our Sola 48 Modern Chandelier includes seven Solitaire pendants in Gray glass. Toward the back of the store, our Solitaire Modern Chandelier also features this classic silhouette in Gray glass. The neutral color of our luxurious Gray glass reflects the company's aesthetic and complements the gray suede wall coverings and signature black shoe box seen on the shelves. Learn more about Harry's India location.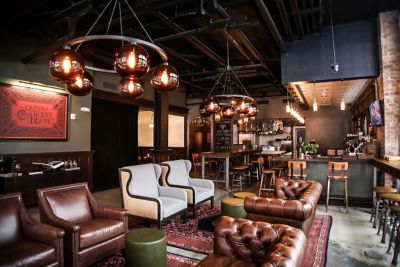 Large pendant lighting is the perfect way to greet guests to a wonderful stay. The Q&C Hotel designed by Kraig Kalashian Architecture and Design brings a modern twist to a city with historical significance and welcomes visitors in style. Located in the heart of New Orleans, this cozy lounge features our Sola 36 Modern Chandelier with Chocolate Solitaire glass, adding a lovely richness to the warm interior. Read more about this hotel transformation.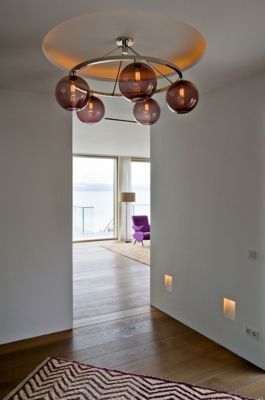 In the entryway of this lakeside property in Germany by Fuchs, Wacker, Evi Märklstetter, and Stephan Interiors, our Solitaire Modern Chandelier greets the homeowners and their guests. Elegant and timeless, this contemporary fixture features our signature Solitaire silhouette in Plum glass. The warm hue of our luxurious glass complements the interior's purple accents and creates an inviting atmosphere for all to enjoy. Click here to see more Niche pendants just beyond this stunning entryway.