Niche's Solitaire glass is minimalistic and straightforward in its presentation, making it a classic silhouette for any environment. Paired with our Sola Chandelier and Solitaire Chandelier, these fixtures create stunning centerpieces, perfect for hospitality, retail, and residential settings. The glass color, metal finish, and overall height of the chandeliers are up to you, making each installation completely unique. Get inspired by three places to hang a chandelier with Solitaire glass in your home.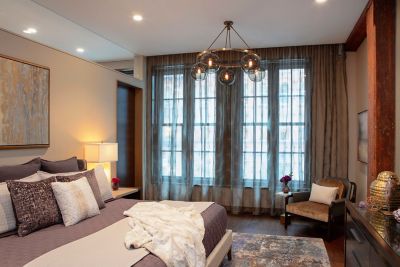 Two Satin Brass Solitaire Modern Chandeliers with Gray glass hang in the master bedroom of this New York City Residence by OTTE Architecture. The Satin Brass finish of our contemporary chandelier complements the warm, rustic palette featured throughout the space, especially the dark hardwood floors and bronze accents. Elegant and timeless, this fixture brings balance to the bedroom and creates a relaxing environment for the homeowners to enjoy after a long day.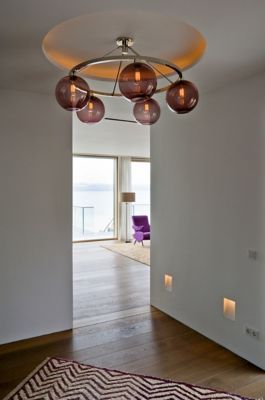 In the entryway of this lakeside property in Germany by Fuchs, Wacker, Evi Märklstetter, and Stephan Interiors, our Solitaire Modern Chandelier greets the homeowners and their guests. Elegant and timeless, this contemporary fixture features our signature Solitaire silhouette in Plum glass. The warm hue of our luxurious glass complements the interior's purple accents and creates an inviting atmosphere for all to enjoy. Click here to see more Niche pendants just beyond this stunning entryway.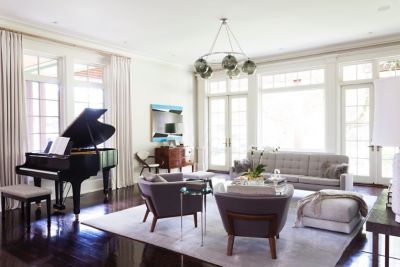 A Solitaire Modern Chandelier with Gray glass orbs hangs in the center of a Bedford, New York living room designed by Deborah Spiro Interiors. The signature color of our Gray glass complements the neutral tones featured throughout the space, while the elegance of our Solitaire Chandelier creates the perfect centerpiece for this gathering area. See other places to hang a Niche chandelier, including in hospitality and retail settings.