After three tiny additions to the family, FreshDirect.com's co-founder, Jason Ackerman, and wife, Elyssa, decided to settle down and cozy up with a renovation of their spacious Soho loft. Both West Chin, the architect on the job, and GRADE New York have incorporated Niche's diverse custom lighting in multiple projects. Here, they continue the tradition of creating a clean, striking space that emphasizes the natural beauty in simple materials. Our Pod pendants and Sola Modern Chandelier have, yet again, found themselves right at home.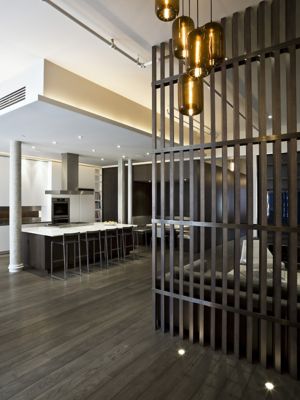 A quintuplet of Niche Pod pendants in Chocolate glass greets visitors upon their arrival. The luxurious color of our rich, Chocolate glass complements the intimate enclaves made of dark wood panels featured throughout the expansive loft. Just beyond the foyer, a Pod pendant in Crystal glass hangs at the entrance of the loft's main hallway. The placement of our handmade pendants creates an inviting atmosphere for all to enjoy.
The living area is enveloped in cooler gray and cream tones, instantly drawing the eye to the warm olive hue of the Sola Modern Chandelier's Smoke Solitaire globes, crowning the contemporary fixture the focal point. Matte Black custom-fabricated metal used to construct the 36" ring and arms of the Sola Chandelier mirrors the darker wood accents throughout the space.