As the primary spot for precision tasks like applying makeup and shaving, a bathroom needs to have ample vanity lighting. Niche hand-blown products will beautifully brighten your bathroom while also bringing elegance and sophistication to your space. Take a look at three bathroom vanity lighting installations to inspire your next project.

1. One Modern Pendant Light
This bathroom by Arent&Pyke uses a palette of bright whites and grays to create a light atmosphere. A single Pod pendant in Gray glass hangs on one side of the vanity, adding the perfect amount of accent lighting in this interior. The cylindrical shape of our Pod pendant looks stunning alongside the mirror's rounded edges and our signature Gray glass complements the cool tones featured throughout the space.
2. Two Modern Pendant Lights
Designer Leslie Schofield updated the guest bathroom in her own home with Niche modern pendant lights. The black and white patterned tile set the stage for the rest of the bathroom. Two Solitaire pendants in Crystal glass frame the mirror, creating symmetry and balance while also complementing the space's simple palette. "When it came to the lights, I knew I wanted to use Niche lights from the get go," says Schofield. "I have used Niche on other projects and I love the [Solitaire pendant's] clean lines and curves."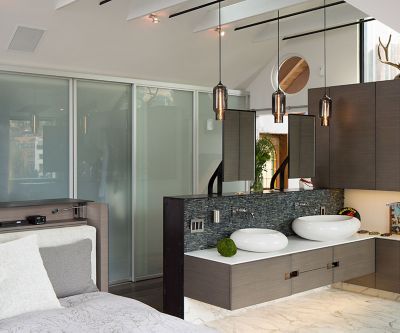 3. Three Modern Pendant Lights
A trio of Pharos pendants in Gray glass hangs above this double vanity in the Marin Residence by Dawson Clinton. The color of our Gray glass adds to the neutral palette, complementing the marble floor, paneled cabinets, and pebbled stone tile that adorns the walls of the vanity and shower.