Niche hand-blown products will beautifully brighten your bathroom while also bringing elegance and sophistication to your space. Get inspired by five contemporary bathrooms with Niche's Pharos handmade pendant light.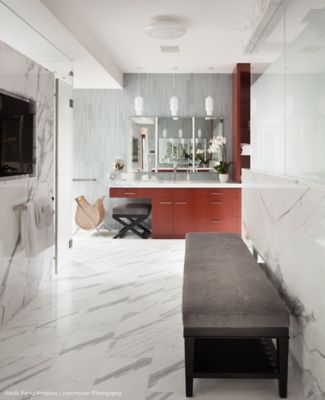 Designed by Adolfo Perez Architect, this master bathroom in a private residence incoporporates a trio of Pharos pendants in Soft White above the vanity. The delicate color of our Soft White glass complements the space's marble floors and walls. The custom white Cord Set and Ceiling Canopy Kit help to create cohesion in the space. Take a look at all of our accessory options to customize your modern pendant lighting display.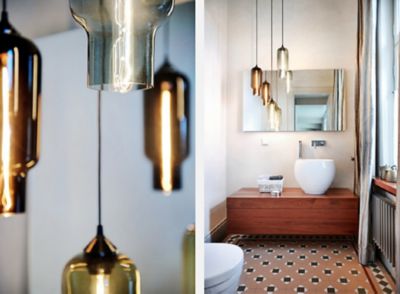 This stunning bathroom in Poland by Loft Magdalena Adamus features three Pharos pendants on one side of the vessel sink. Niche pendants in Chocolate, Smoke, and Gray glass hang from varying drop lenghts to create a unqiue modern lighting display. The rich colors of our luxurious glass complement the warm wood tones of the vanity and the red hues in the tiled floor.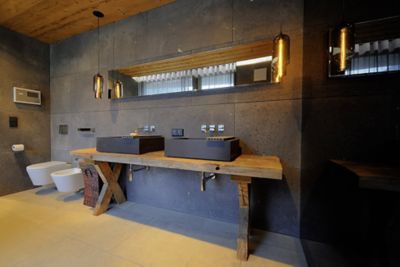 Located on a steep mountain slope in Austria, Chalet Canelle by East West Real Estate is inspired by the building's natural surroundings. Two Pharos pendants in Gray glass hang on either side of the double vanity, complementing the wood, glass, and cement materials used in the space.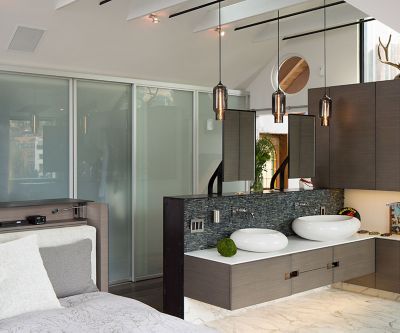 A trio of Pharos pendants in Gray glass hangs above this double vanity in the Marin Residence by Dawson Clinton. The color of our Gray glass adds to the neutral palette, complementing the marble floor, paneled cabinets, and pebbled stone tile that adorns the walls of the vanity and shower.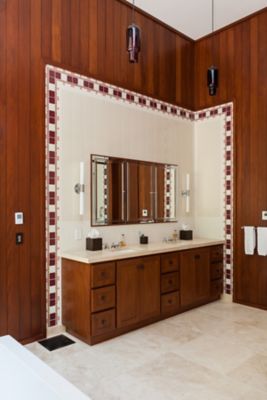 Michael Haverland designed this House on 20 Acres using several Niche pendants. Our Pharos pendants in Plum glass hang in the master bathroom. The rich hue of the pendants complements the warm mahogany of the wide-plank walls and the custom tile pattern that borders the vanity. See the complete project and other Niche pendants in this home.
Do you have Pharos pendants in your bathroom? Send us your project information and awe-inspiring images for a chance to be featured on our blog and social media pages.