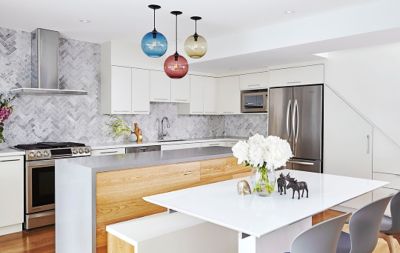 Mixing and matching Niche pendant lighting glass colors is encouraged! Delo Interiors went the jewel tone route with this kitchen island pendant lighting display and used our Solitaire pendant lights in Sapphire, Plum, and Smoke glass colors.
| | | |
| --- | --- | --- |
| | | This installation at London Heathrow Airport features custom frosted glass pendant lights. Even with a more matte finish, bold jewel tones make for a striking table pendant lighting cluster. |
| | | |
| --- | --- | --- |
| | | Inside this Brooklyn brownstone renovation you'll find a perky palette of fun patterns, textures, and colors. Plum, Amber, and Sapphire glass Binary pendant lights make for a great jewel tone trio and pair perfectly with the colorful kitchen tile in the adjacent room. |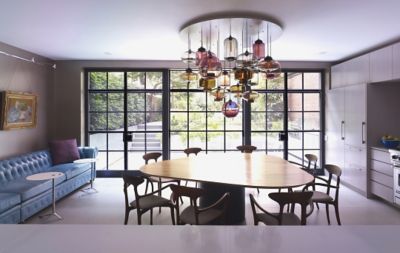 SPG Architects renovated a Brooklyn townhouse with the intention to bridge the gap between the building's original elements and modern sensibilities. This modern pendant lighting cluster features Aurora, Stamen, Stargazer, Oculo, Solitaire, Minaret, Pod, and Turret pendant lights. Against the sunlit backdrop, this jewel-tone-inspired installation shimmers just like gems themselves.