Gary Lee Partners is an independent interior design collective that harnesses the power of space to elevate how people think, work, and live in the physical environment. Their main objective is to create settings that reflect their clients' tastes and style preferences, which is exactly what they did in this Gold Coast Condo in Chicago, Illinois. The couple wanted a space where their sophisticated yet relaxed personalities could be showcased while still maintaining sleekness and elegance. For Gary Lee Partners, exceptional is their standard, and quality is their signature. Here, they certainly achieved the highest quality with Niche's contemporary kitchen lighting.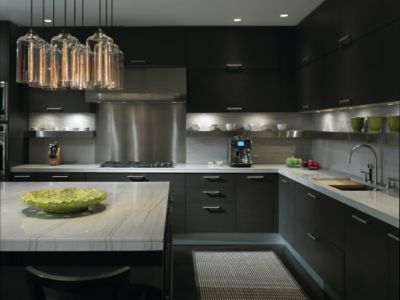 The tightly-knit group of our Bella pendants in Crystal Glass hangs above the kitchen island. This silhouette lends itself beautifully to environments where repetition is appropriate for high impact, and the cluster of lights over the marble countertop creates a bold statement in this minimalistic space. The Crystal glass brightens the dark interior and adds balance against the black cabinets.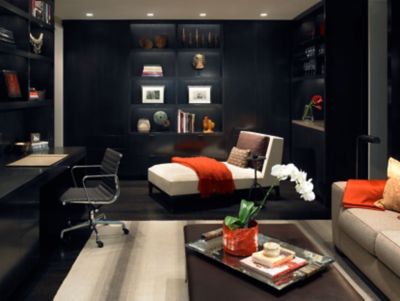 Throughout the residence, colorful accessories help to liven and elevate the dark rooms. In the kitchen, hints of green accent the shadowy space while in the office, rich oranges and beige tones add to the dynamic ambiance. Discover other ways to incorporate modern lighting in black interiors.
Contemporary Kitchen Lighting Project Details
Project Gold Coast Condo
Location Chicago, Illinois
Designer Gary Lee Partners
Photographer Nathan Kirkman