Go classic with the Niche signature Crystal glass color. Our handmade clear glass ensures premium quality through optimal clarity and thickness. Each piece of glass is handblown, coldworked and inspected by an intimate group of skilled craftsmen to meet our high standards.



Modern pendant lights in Crystal glass bring vitality to any space. Hang a single pendant over a small table, or group them with a multi-pendant modern chandelier to brighten up a room in style.
Light up your entryway, dining table or lounge area with a modern chandelier with Crystal glass shades. A perfect balance of minimalism and sophistication, Niche's modern chandeliers are highly customizable and make a classic statement.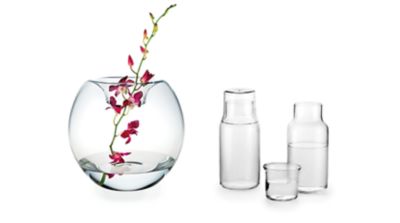 Create an elegant centerpiece with a modern vase in Crystal glass. Dress up your table with a carafe and matching drinking glasses. Bringing Niche's modern tabletop collection together with our signature Crystal glass will showcase any surface.