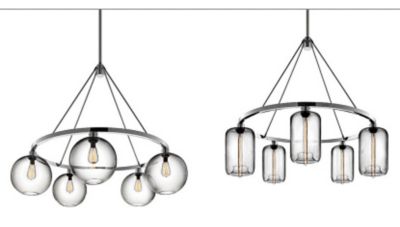 Niche's Sola 36 Chandelier Collection makes it possible to customize every aspect of your chandelier so your lighting creates a cohesive style in any room.
1. Choose Your Glass Shape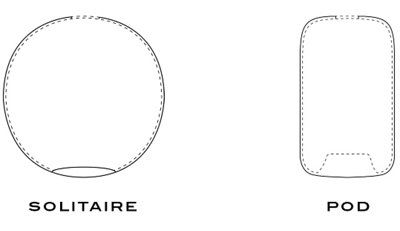 Choose one of two glass shapes: the Solitaire or Pod. The Solitaire glass shape will add roundness, simplicity and grandeur to any space. The Pod glass shape will give more vertical length and complexity through its slender shape and signature handmade tuck.
2. Pick a Glass Color

The Solitaire and Pod Chandeliers both are available in an array of rich colors including Amber, Chocolate, Gray, Plum, Sapphire and Smoke. Visit the website for more color options.
3. Select Your Metal Finish
Metal finishes are customizable too. Choose between Brushed Stainless for a classic brushed metal finish, Polished Stainless for a highly reflective look or Satin Brass for a subtle brass tone.
4. Change the Drop Length

It's important to hang the chandelier at a comfortable height in your space. That's why Niche provides four 6" metal extension rods with every chandelier. The rods join together to give customizable heights in 6" intervals. To flush-mount the chandelier to the ceiling, take away the rods for a 28.5" drop, or use all four rods to hang at 53". Remember to take into account the height of your glass shade for a more accurate overall height measurement.
5. Install Your New Modern Chandelier