When it comes to interiors, black might sound like a dramatic color suggestion. It totally is! But with the right accents and accessories, like Niche's modern lighting, you can create a dynamic and moody ambiance which might be exactly what your interior needs.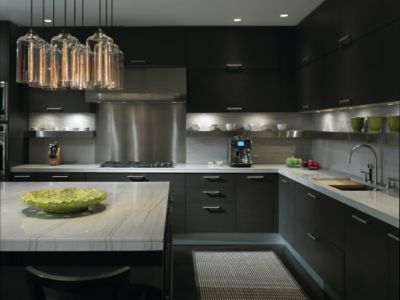 The only thing gold about this sleek black interior called the Golden Coast Condo is the golden glow coming from a tightly-knit grouping of our Bella pendants in Crystal glass. The kitchen island pendant lighting creates a funnel of light towards the marble countertop to serve as task lighting in the shadowy space.
Black finds a use in nearly every surface in this home in Taiwan - from the walls and floor to the bar, stools, and table. Natural sunlight spills in from the large windows, creating an iridescent shimmer on the Pod pendant lights against the black backdrop.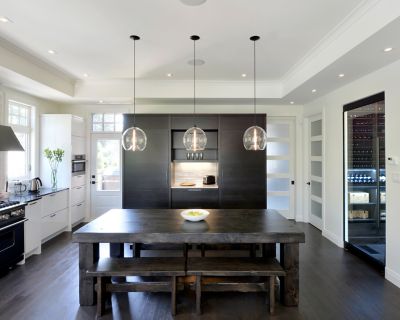 In the Staples family home, kitchen table lighting hangs from individual junction boxes, which is an easy way to hang multiple pendants. Equipped with Niche's standard black cord set and black ceiling canopy, they're a perfect fit with the Crystal Stamen pendant lights for this black-and-white kitchen.