This Niche silhouette adds a luxurious and timeless touch to any space with its cylindrical shape and signature curvature. Get inspired to create dynamic residential modern lighting with these four spaces to hang the Pod modern pendant light.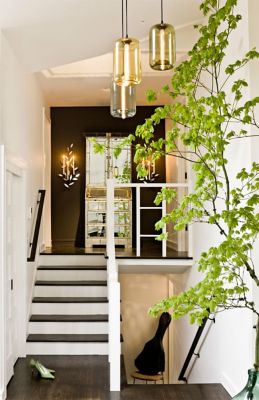 1. Modern Entryway Lighting
This Mid-Century Modern Home in Portland by Jessica Helgerson Interior Design features a cluster of our Pod pendants in Amber, Smoke, and Gray glass. The three pendants hang from different drop lengths in the entryway of the split-level ranch. The array of colors and heights create a unique display, perfectly complementing the white walls and ebony floors. To read more about this renovation, check out these spreads in Dwell and Portland Monthly Magazine.
2. Modern Dining Room Lighting
The Quill 5 Modern Chandelier with Pod pendants in Crystal glass hangs above a dining room table in the Kingsway House by Croma Design, making a bold statement in this simple eating area. The Crystal glass adds a sophisticated touch to the clean and airy interior, and the pendants provide a nice balance to the flood of natural light pouring in from the open windows. Choose from any of the standard Niche glass colors to choose the perfect chandelier for your space.


3. Modern Bedroom Lighting
This Canyon Ranch Home by Allen Saunders incorporates a single Pod pendant in Smoke glass over a nightstand, offering a unique option for bedside lighting. The custom drop length creates a refined display for an intimate glow of light.
4. Modern Kitchen Lighting
Three of Niche's Pod pendants in Gray glass hang above the kitchen island in this Millennium Tower Residence by Jeffers Design Group. This silhouette accentuates the simplicity and elegance of the space's design. Multi-pendant lights arranged in a line bring attention to the contemporary countertop. Read more for tips on lighting your kitchen island.