Round modern pendant lights provide a classic and timeless look in any interior. Niche offers an array of orbs and rounded pendants in luxurious glass colors, giving you endless options for your next project. Get inspired by three kitchens with round modern pendant lights.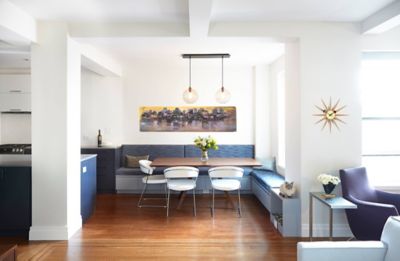 This cozy breakfast nook by Lauren Rubin Architecture features two Solitaire pendants in Crystal glass. Hanging from a Linear-2 Modern Chandelier, which allows you to easily combine any two fixtures with a single electrical junction box, these hand-blown lights adorns the kitchen table. The Solitaire pendant presents a clean and straightforward design, which complements the neutral and minimalistic interior. Read more about this modern Manhattan home.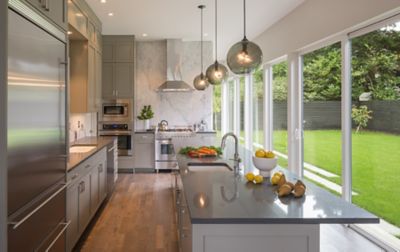 A trio of Binary pendants in Gray glass hang above the kitchen island in this Seattle home by Rerucha Studio. The goal of this transformation was to create a modern space with an abundance of light. The floor-to-ceiling windows and Niche modern pendant lighting helps to achieve this, especially considering the Binary pendant uses two incandescent bulbs, offering greater illumination.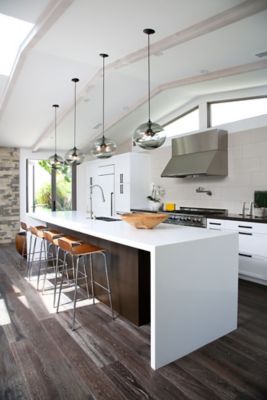 Located in Newport Beach, California, this kitchen by Abodwell Interior Design includes four Terra pendants in Gray glass above the kitchen island. The large proportions of this Niche silhouette bring presence to the space and draw attention to the eat-in kitchen countertop over which the grouping hangs. Our signature Gray glass complement the monochromatic color scheme, with cool gray tones being the focal point in the kitchen and conjoining living room. See more images from this renovation project.