A family with impeccable taste recently enlisted Reade Street Studio to design both their country home and Greenwich Village duplex. Jason Michael Fay and Aimee Lopez of the design firm expanded the Manhattan kitchen and opened up the living areas to create a loft-like feeling that was spacious, functional, and flexible. The result is a cohesive and stylish residence that thoughtfully reflects the client's wishes.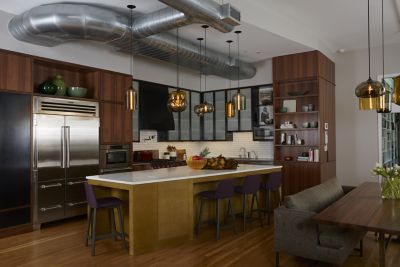 In the conjoined kitchen and dining room, an array of Niche handmade glass pendant lights create a stunning centerpiece. Above the kitchen island, an Amber Pod, Gray and Amber Oculo, Smoke Aurora, Gray Bell Jar, Gray Terra, and Smoke Bella work together to form a linear lighting display. The warm colors of our luxurious glass complement the blackened steel and glass cabinets as well as the stained wood floor. The use of different pendant shapes and colors adds a bit of playfulness to the interior and ensures that the large island with seating acts as a central gathering space.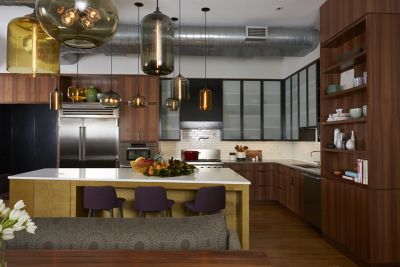 A Gray Aurora, Gray Pod, Amber Bell Jar, Smoke Terra, and Amber Bella adorns the dining room table parallel to the kitchen island. The designers chose to use the same pendant shapes and colors that were featured in the kitchen to continue the cohesive layout. The rich glass colors complement the custom walnut dining table and wood details prominently displayed throughout the apartment.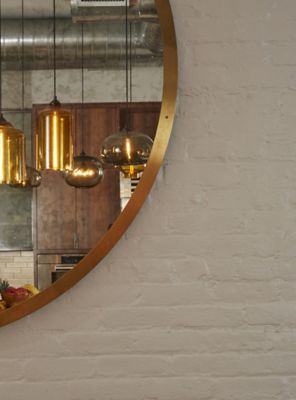 Niche would like to thank Reade Street Studio for supporting our handmade products and for sharing this project with us. Whether you're a designer, architect, homeowner, or business owner, we would love to see how you incorporate Niche lighting in your projects! Send us your project information and awe-inspiring images for a chance to be featured on our blog and social media pages.
Modern Lighting Project Details
Project Name Downtown Duplex Loft Phase 1
Location Greenwich Village, New York
Interior Designer Reade Street Studio
Photographer Tara Striano
Products Used Amber Pod, Gray Pod, Gray Oculo, Amber Oculo, Smoke Aurora, Gray Aurora, Gray Bell Jar, Amber Bell Jar, Gray Terra, Smoke Terra, Smoke Bella, Amber Bella