When incorporated into your modern home, the color yellow can serve several different purposes. It can bring boldness and brightness into your space, but it can also evoke warmth and intimacy. Whether you want to make yellow the main focus in your interior or you are looking to subtly feature it in certain areas, we are here to spark some inspiration. Here are three different examples of how designers have decorated with yellow lighting.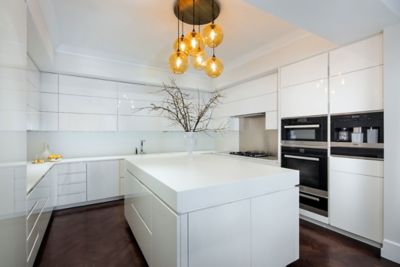 1. Use Amber Pendant Lighting
A custom Circular Modern Chandelier hangs above the kitchen island in this Manhattan home by Nicole Fuller Interiors. A cluster of six Amber Solitaire pendants act as the perfect centerpiece in this space, with the brightness of our luxurious, honey-colored glass standing out against an all-white backdrop. Read more about this luxurious Manhattan apartment.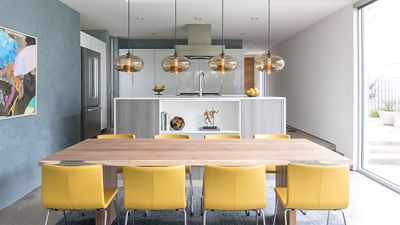 2. Incorporate Bright Accents
Designed by Eugenio Reyes of Cantoni, this modern dining room features four Aurora pendants in Smoke glass above the dining room table. While our signature Smoke glass is more subdued than our Amber glass, it has hints of yellow, green, and gray in its coloring. The smoke Aurora pendants complement the brightly upholstered chairs which bring vibrancy to the cool-toned room. See other images of this dynamic Dallas dining room.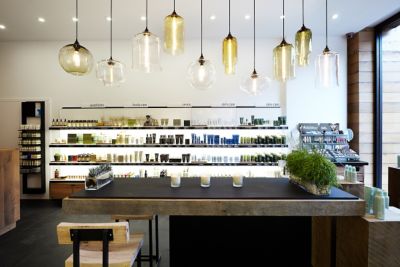 3. Pair with Neutrals
Pairing Amber pendant lights with neutral-colored glass will allow you to incorporate yellow into your space without being too bold. A gorgeous linear display of our Solitaire, Oculo, Bell Jar, Bella, Pharos, and Stargazer pendant lights hangs above the central counter in Aveda. The pairing of our Amber glass with Crystal and Smoke glass creates a clean balance.