The Crystalline Series contains four silhouettes that combine bold hues with defined angles to create playful contemporary lighting. With geometric shapes and bright colors, the Axia, Trove, Calla, and Delinea pendant lights that make up this series create unique and eye-catching modern lighting displays. Though the colorful pendant lights are beautiful on their own, a grouping of three or more offers maximum impact, especially when combining shapes and colors. Get inspired by three hotels with Crystalline modern pendant lighting.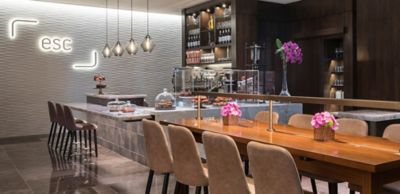 1. Four Seasons Hotel, Silicon Valley
Newly opened, the premier bar and restaurant at the Four Seasons Hotel in Silicon Valley features Trove pendants in Gray glass. Designed by EDG Interior Architecture & Design, ESC is ideal for those on the go, serving up freshly brewed coffee, gourmet beverages, cold-pressed juices and quick bites in a casual and convenient atmosphere. The linear arrangement of Trove pendants adds a playful touch to this sophisticated interior while our signature Gray glass complements the space's neutral tones.
2. EVEN Hotel
In the lounge area of Brooklyn's EVEN Hotel, Trove pendants in Crystal glass enhance the overall atmosphere of this relaxed environment. Over the computer station, Trove pendants hang from a Circular-5 Modern Chandelier at varying drop lengths, making this a unique and custom centerpiece used for maximum impact. Paired with an additional row of Crystal Trove pendants over the seating area, this hotel pendant lighting helps guests unwind and enjoy their stay.
3. Motel One
In the lobby of Hamburg, Germany's Motel One, Niche Calla, Delinea, Trove and Axia pendants in Crystal glass line the front desk, greeting guests as they enter the building. The combination of these pendants together forms an inviting and welcoming display for visitors to view when they first arrive.
Do you have Niche modern lighting in your hotel? Send us your project information and awe-inspiring images for a chance to be featured on our blog and social media pages.