Interior Designer Andrea Schumacher was tasked to transform this Colonial-style brick home in Denver's Country Club neighborhood into a traditional yet airy house for a young couple. In several of the rooms, Schumacher used neutral backgrounds and added pops of color with art, rugs, and accessories. Her approach is especially apparent in the open-concept kitchen, which features Niche contemporary kitchen island lighting.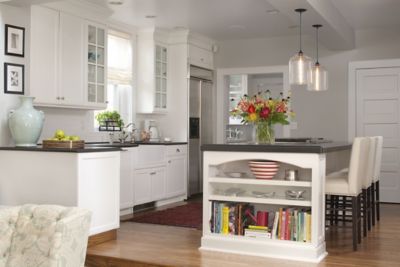 Two of our Bell Jar pendants in Crystal glass hang above the kitchen island, complementing the simple white cabinetry and neutral tones found throughout the interior. The bare bulb filament in the Bell Jar pendant enhances the luminosity of the space and casts a wide beam of light over the countertop. Read more about how you can dress up your kitchen lighting.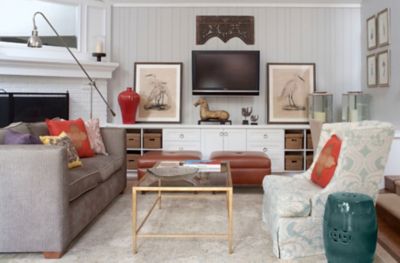 In keeping with the neutral aesthetic featured in the kitchen, Schumacher also used clean lines and soft palettes in the adjoining living room, adding color with patterned pillows and bold accent pieces. This Colorado home renovation is stunning, and we are thrilled to see our handmade pendant lighting incorporated into this sophisticated design.