The kitchen has become the central hub of many homes and requires lighting that illuminates everyday tasks and adds personality to the room's design. Kitchen lighting tends to be more functional than decorative, but that doesn't mean you're stuck with boring options. When lighting a kitchen island or counter, here are two pendant lighting configurations you may consider.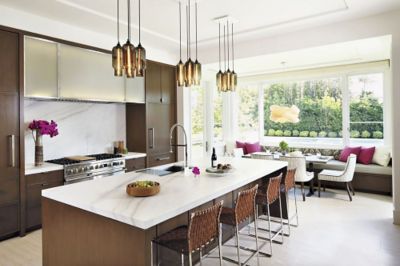 Multi-Pendant Lighting for Kitchens
Multi-pendant lighting canopies can hang beautifully over kitchen islands or over large tables. They work best in spacious kitchens that can handle fixtures with more length and presence. This kitchen designed by Annette English & Associates uses three of our Pack-4 modern chandeliers with Pharos glass over a large kitchen island. At Niche, you have the option to fully customize a multi-pendant canopy and we also offer Linear and Circular configurations, in addition to the Pack. You can mix-and-match pendants of varying sizes, colors, and shapes or, keep all of the pendant lights uniform; it's totally up to you!

Mini Pendant Lighting for Kitchens
Over smaller kitchen islands or bars, having a series of standard-sized pendant lights (typically about 10" wide) will overwhelm the kitchen's "skyline." That's where mini pendants come into play. Mini pendant lights offer enough task lighting for meal prep and other kitchen duties. But they also add to the room's warmth and style, as the kitchen can be the primary place for gathering. Designer Michala Monroe used two of our Pharos modern lights for the kitchen project above. The width of the Pharos is 5" wide, making them compact enough for this small space. We also recommend our Helio Series and Crystalline Series if you're in the market for smaller modern pendant lights.