This Los Angeles property designed by William Hefner Architecture and Annette English and Associates boasts a seamless indoor-outdoor connection, combining traditional and modern elements to create a serene, country-inspired sanctuary.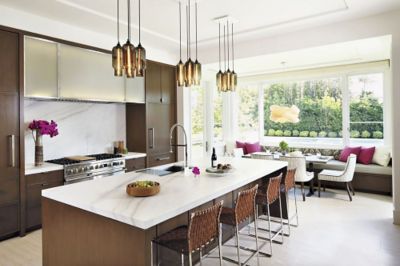 In the kitchen, a gorgeous installation of our Pharos pendant lights in Gray glass shine down on the island. A great example of our custom lighting canopy options, the Pack-4 Canopy in Matte White blends in with the ceiling while the cords for each pendant light are standard black.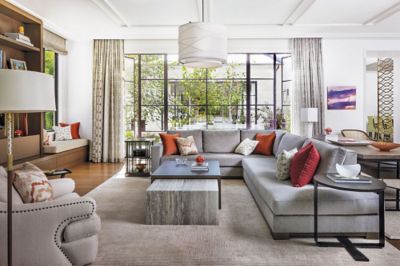 The family room is doused in various grays with a smattering of reds and oranges tastefully integrated into the neutral-toned atmosphere. The warm-colored accents harmonize with the sunlight that pours in through the large doors which open to the yard, melding the indoor and outdoor spaces.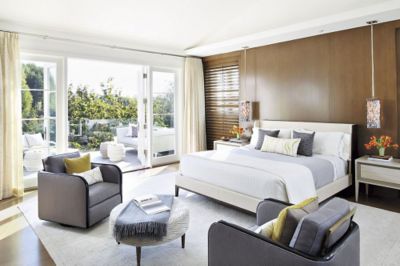 Just like the family room, the master bedroom uses a neutral palette paired with subtle, warm accent colors. The sun-drenched bedroom opens directly to a porch overlooking the rear gardens.
Modern Kitchen Lighting Project Details
Project Name Palisades Modern
Location Los Angeles, California
Interior Designer Annette English and Associates
Architect William Hefner Architecture
Photographer Erhard Pfeiffer