Located in Armonk, New York, this red-brick colonial residence underwent a transformation with help from RitaLuisa Garcés of Bilotta Kitchens and Billy Ceglia Designs. The homeowners wanted a sleek, contemporary kitchen that brought warmth to the space while also enhancing the style of their classic home. The result is a stunning and elegant environment that endures both comfortable and classic design.
A grouping of nine handmade modern pendant lights hang from a Polished Stainless Circular-9 Multi-Pendant Modern Chandelier. The pendant lighting cluster features Niche Crystal and Sapphire Pod pendants, two Crimson Pharos, two Gray Oculo, a Crystal Stargazer, a Crystal Minaret, and a Sapphire Aurora. This multi-pendant chandelier adorns a blue lacquered breakfast table with stainless steel detailing, making it the perfect complement to the interior's transitional color palette.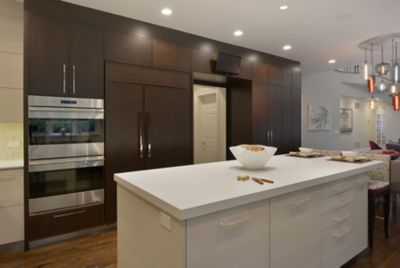 The Circular-9 Canopy provides the perfect setting for a customized cluster of your favorite Niche pendants. Easy installation requires a single electrical junction box. Canopy finishes and pendant colors and drop lengths are up to you, making each fixture completely unique. View other interiors with Circular Modern Chandeliers and explore more modern kitchen lighting projects to help inspire your next project.
Modern Kitchen Lighting Project Details
Project Name Warm Contemporary in Armonk
Location Armonk, New York
Interior Designer RitaLuisa Garcés of Bilotta Kitchens, Billy Ceglia Designs
Photographer Peter Krupenye Photography
Products Used Polished Stainless Circular-9 Canopy, Crystal and Sapphire Pod, Crimson Pharos, Gray Oculo, Crystal Stargazer, Crystal Minaret, Sapphire Aurora