Our modern lighting canopies offer the perfect opportunity to mix and match multiple pendant shapes, colors, and cord lengths. With that in mind, just imagine the possibilities for your next project. To help you get inspired, here are three modern interiors with multi-pendant canopies.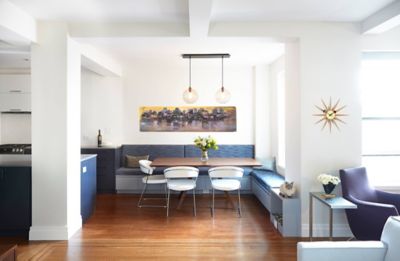 The breakfast nook by Lauren Rubin Architecture incorporates our Solitaire pendants in Crystal glass hanging from a Linear-2 Canopy. Our signature crystal glass complements the interior's clean and natural aesthetic while providing a cozy atmosphere for the homeowners to enjoy.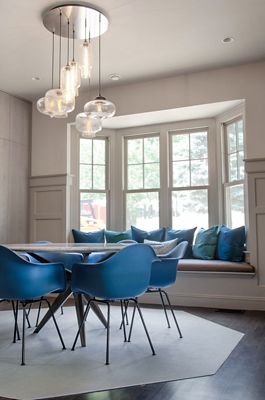 This Boston residence by Grayscale Design features a cluster of Effervescent pendants hanging from a Circular-7 Modern Chandelier with a Polished Stainless finish over the dining room table. The Circular Canopy — featuring a staggered grouping of our Pharos, Oculo, and Minaret pendants — creates a contemporary centerpiece for this interior.
Our Pack-4 multi-pendant canopy with Crystal Pharos pendant lights makes several appearances inside the lobby of the EVEN Hotel in Norwalk, Connecticut. The sleek, compact fixture works wonders at the tiny bar, dining table, and again overhead at the lounge's seating area. Above both the bar and dining table, multiple Pack-4 canopies are used for maximum impact and to help guests feel right at home.